Courchevel - 'The World's Ski Capital', News For The Upcoming Season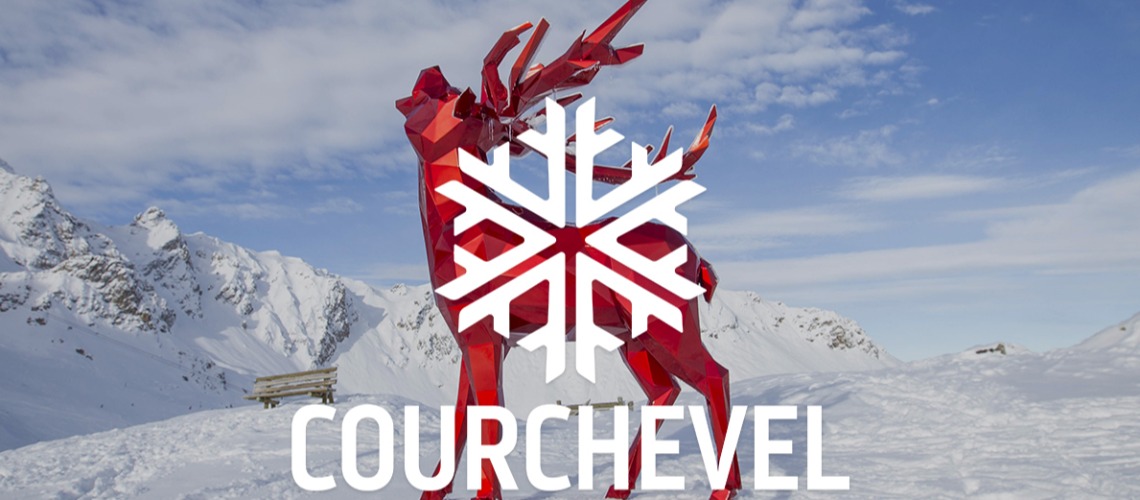 Courchevel has set its stall out for the coming season.
Nestling on the high slopes of the Tarentaise valley, Courchevel and its six villages come into view as you round the bend of a scenic, winding road, surrounded by forests and breath-taking panoramic views... Six villages interlinked by ski lifts or free shuttle buses form a single "ski-in/ski-out" resort sporting multiple worlds and a host of different atmospheres.
Saint-Bon is a village steeped in history with its Baroque church, quintessential mountain village streets and traditional chalets. From the village's municipal hall there is a stunning downhill run to the village centre. More intrepid skiers can set off from the top of La Saulire, at an altitude of 2,740m, and ski down to Saint-Bon at 1,100m of altitude, without stopping, to experience one of the truly "great ski" downhill runs.
Courchevel La Tania, the most recent of Les 3 Vallées resorts, is an unspoilt haven of nature, a car-free village much-loved by young and old alike. Nestling amidst pine forests, it is the perfect spot for reaching the Méribel ski area or embarking on a sweeping circuit across the Courchevel area, as far as Courchevel Moriond for example. The long green run Plan Fontaine is a firm favourite with the kids.
Courchevel Le Praz is a traditional mountain village graced with authentic architecture, timber chalets and narrow streets. It is also home to the Olympic ski jumps as well as the finishing line of the Éclipse run, the famous racetrack for the forthcoming Courchevel- Méribel 2023 FIS Alpine World Ski Championships. It is also the starting point for a fabulous ski touring trail, which charts a fantastic ascent up the mountain.
Courchevel Village is tucked behind the top of a wooded mound, in a prime central location with Courchevel Le Praz and Courchevel 1850 within easy reach along runs of all levels. Everything is easily accessible here, all in the centre for maximum convenience in a friendly and cosy atmosphere.
Courchevel Moriond is a world all of its own, with wide open spaces bathed of sunshine, popular among families and teenagers for the five specially laid out thematic fun spaces and the snow garden opposite the outdoor restaurant areas, meaning you can admire your kids while sipping a hot chocolate.Courchevel 1850 is the largest of the six villages and the beating heart of the ski area with its wide array of ski runs for all levels and access to La Saulire, which culminates at 2,740m, as well as the rest of Les 3 Vallées skiable terrain, its massive Family Park with its modules and snowboard cross, the freeride zone at altitude beneath the Creux Noirs area, and last but not least, the start of the Éclipse racetrack for the future Courchevel-Méribel 2023 FIS Alpine World Ski Championships.
NEW THIS SEASON: DON'T MISS OUT! HOTELS & FINE DINING SYLVESTRE WAHID'S RESTAURANT, EXCLUSIVE EXCELLENCE This new venue dreamt up by Sylvestre Wahid is truly worthy of being waxed lyrical about. At the helm of Courchevel's Le Strato when it was awarded 2 Michelin stars in 2012, the chef has returned to Les 3 Vallées ski area, this time opening his own, eponymous restaurant with a highly exclusive and original concept at Courchevel's 5-star hotel Les Grandes Alpes. Set within an elegant and cosy interior designed by Tristan Auer, just four tables welcome guests, with the privilege of watching dishes being prepared in the open kitchen at the entrance. As a guest you can look forward to indulging in Sylvestre Wahid's taster menu featuring some 15 dishes. With this new restaurant concept, Sylvestre Wahid is embracing an exciting adventure extolling the delights of sharing at liberty and unveiling his vision of the restaurant of tomorrow. Tel. + 33 (0) 479 00 00 00 I www.grandesalpes.com
THE 4-STAR GRAND HÔTEL COURCHEVEL, RENOVATED GUEST ROOMS Located right in Courchevel 1850 village centre beside the ski slopes, this sumptuous hotel has fully renovated its 38 guest rooms. Widely respected interior designer Emilie Rollet has conjured up a contemporary atmosphere still graced with the warm and welcoming mountain chalet feel so appreciated by the hotel's very loyal clientele. Rates: starting at 390€/night for 2 people including breakfast, in low season in a Confort room. Tel. + 33 (0) 479 08 04 33 I www.legrandhotelcourchevel.com
BERNARD ORCEL, ELEGANCE ONLINE, DELIVERED TO YOUR HOTEL ROOM COURCHEVEL 1850 For decades, Bernard Orcel, a flagship store in Courchevel, has been providing guests who come to stay at the resort with a prestigious selection of chic and exclusive sportswear. This winter, thanks to its online store that guests staying at the resort's luxury hotels* can access using the tablets available, you can order the outfits of your choice and get them delivered straight to your room. This service means you can see if the garments fit in complete privacy. *Palace Les Airelles, Palace Barrière Les Neiges, 5-star Aman le Melezin or 5-star Le Strato www.bernard-orcel.com
LA POMME'S RESTAURANT WITH PANORAMIC TERRACE Part of the Maison Tournier group, 4-star hotel La Pomme exemplifies the art of hospitality in a family-friendly atmosphere, with elegant and cosy guest rooms and now fine dining mountainside with a new restaurant making its appearance. Come and unwind on its spacious panoramic terrace while tucking into a leisurely lunch overlooking Courchevel 1850 village and the majestic mountain peaks. Head chef Mathieu Hericotte serves up delicately-flavoured, elegant dishes, respectfully showcasing local produce in keeping with tradition. Tel. + 33 (0) 479 04 04 15 I www.lapomme-courchevel.com
5-STAR HOTEL L'APOGÉE COURCHEVEL, AN UNFORGETTABLE DAY IN THE COMPANY OF CHEF JEAN-LUC LEFRANÇOIS As an Oetker Collection property, L'Apogée is an icon of elegance, earning its recognition as a luxury "Palace"-designated hotel. This winter, a brand-new experience awaits guests: spending a whole day with Chef Jean-Luc Lefrançois, who loves skiing for hours and rustling up his outstanding dishes in the kitchen in equal measure. After heading out for a spot of ski touring, Alpine or cross-country skiing depending on your level, treat yourselves to a delicious picnic prepared by the chef himself, on the slopes overlooking Courchevel. Soak up the scenic views on your way back downhill to L'Apogee before meeting Jean-Luc Lefrançois for a 90-minute demonstration in his culinary kingdom. The generous-hearted chef will take great pleasure in sharing the recipe of his signature dish at the Japanese fine-dining restaurant "Koori", washed down with a glass of champagne for each person. The perfect day for food-loving sports enthusiasts!
NEW THIS SEASON: DON'T MISS OUT! THE MOUNTAIN AND THE SKI AREA COURCHEVEL DANS LA POCHE Courchevel has released a free, brand-new app so you can get all the latest information about the resort in real-time, for a hassle-free holiday! Transport, shopping, events, entertainment, accommodation, eating out, webcam, conditions across the ski area: it's all here. Where can you find a Thai restaurant? Which car park can you park in? The times of the free shuttle buses or buying your lift pass online: you'll find all of the answers you're looking for in the app. Available on iOS and Android "Courchevel dans la poche" Free.
COURCHEVEL LAUNCHES THE 1ST START-UP COMPETITION FOR THE MOUNTAINS: MET MET: Mountain Ecology Technology, on December 10th and 11th, after an application process that got under way over the summer, 10 start-up finalists will pitch their project for the mountains on such themes as ecology, architecture or transport..
COURCHEVEL, WORLD'S SKI CAPITAL, is more than ever living up to its name with an incredible line-up of international ski events that will thrill the public! A starring role on the global ski stage that will shine the spotlight on the expertise of this Savoie resort which, ever since the 1992 Winter Olympics, has continued to innovate and support the organisation of sports competitions involving skiing, ski jumping, ski touring, trail running, mountain biking and more.
ALPINE SKI WORLD CUP FINALS IN 2022 From March 14th to 20th 2022, the world's best Alpine skiers will compete in Courchevel and Méribel where the Crystal Globes will be awarded! Alexis Pinturault, for whom Courchevel is home turf and who pulled off a stunning performance to win the Crystal Globe in 2021, will be defending his title before home crowds who will be 100% behind him. An event that is gearing up to be an intensely exciting one.
ÉCLIPSE, THE NEW SKI RUN THAT'S GOING TO ELECTRIFY THE SKI WORLD It's been hotly awaited and should fully live up to expectations – completely bowling over spectators! The new ski run Éclipse, on which the world's best ski racers will compete during the 2022 World Cup Finals and the 2023 World Championships, boasts an unrivalled track, whose level of commitment and technical difficulty are already daunting skiers.
The feat of a downhill track such as this becomes clear from the top of this steep black run. With your heart pounding, blood pumping through your body, and your leg muscles flexed, you look up with your mind focused on only one thing: winning ... There's nothing like it! And you're off, for a few seconds that will feel like an eternity. In 2023, during the World Championships, the professional skiers will race down this 3.3km-long track with a vertical drop of 970m.
Departing from Courchevel 1850, beneath La Loze (2,234m), Éclipse has been designed to make the men's events truly spectacular.
It begins out in the open then plummets through deep forest before emerging and literally plunging down into Le Praz village (1,300m). Big jumps and sweeping turns are given pride of place, with key sections whose names give some idea of the challenge that awaits: the zenith jump, the sound barrier, the Arolla pine bend, the jockey jump, the black hole, the bux wall, the take-off and the wall of the brave... An action-packed programme.
This new slope will be open to the general public this 2021/2022 winter season and to the World Cup Final competitors in March 2022, giving expert skiers on vacation the opportunity to appreciate just how physically demanding this run will be for the athletes and the skill they will have to show to race down a track said to be even more technically difficult than the Streif in Kitzbühel and the Stelvio in Bormio with a mean gradient of 30%.
With sunny and shady sections, Eclipse has already gained mythical status on the world's elite ski circuit on account of its sheer difficulty, and skiers rising to the challenge can expect to arrive amidst a flash of cameras and roaring crowds at Le Praz.
ÉCLIPSE
960m vertical drop
3.2km
30% slope gradient
2,230 m at the start from the Col de la Loze, Courchevel 1850
1,290 m at the finish, Courchevel le Praz
Embarking on an adventure as big as organising the Courchevel-Méribel 2023 FIS Alpine World Ski Championships calls for unwavering commitment and wholehearted involvement. Courchevel and Méribel have this in common: their passion for skiing, for competition and for the mountains which has united them for this unmissable date on the international ski calendar: the Courchevel-Méribel 2023 FIS Alpine World Ski Championships. To ensure a truly spectacular event that pulls out all the stops, designing the Eclipse made perfect sense as it chimed with our desire to demonstrate the resort's world-class expertise in skiing.
After two years of preparation charting a demanding course, replanting was carried out on the piste in the summer of 2021. In line with its ongoing commitment to sustainable development, the Société des 3 Vallées, which operates the ski area, has opted to use 80% endemic seeds approved for agricultural use, so that the grass grown is suitable for cattle grazing and making Beaufort cheese. The other 20% of the seeds come from a blend with the "Végétal Local" certification, approved by the Conservatoire Botanique National Alpin.
2022 Alpine Ski World Cup Finals March 14th-20th 2022
All eyes in the skiing world will be on Courchevel and Méribel to award the Crystal Globes after the Beijing Winter Olympic medals! The Éclipse racetrack is gearing up to stage an absolutely sensational event, with local Alexis Pinturault poised to defend the World Champion title that he won with such class on the Swiss slopes of Lenzerheide in 2021.
Courchevel-Méribel 2023 FIS Alpine World Ski Championships February 6th-19th 2023
The Courchevel-Méribel 2023 FIS Alpine World Ski Championships really do showcase the very best of the international ski scene. For the men's events, the 600 elite skiers in the world will compete on Courchevel's Éclipse racetrack. This is an opportunity for Courchevel to demonstrate its world-class expertise in hosting international competitions and its passion for skiing, with daily crowds expected of more than 20,000.
COURCHEVEL IS LEADING THE WAY FORWARD WITH MOUNTAIN ECOLOGY TECHNOLOGY (MET). START-UPS ENCOURAGED TO HELP SHAPE THE FUTURE OF THE MOUNTAINS
In light of the question marks facing all mountain resorts over their future and the sustainability of their model, concerns in terms of safeguarding the economic and social fabric, changes sweeping through the tourism sector and considerations on improving mobility and urban planning management, Courchevel came up with this MET initiative as a kind of laboratory for good ideas.
2030 is just around the corner! What will the mountains look like in a decade or so? With MET, Courchevel is encouraging French and foreign start-ups currently giving thought to projects on the mountain theme as well as to do with:
• urban planning & real estate,
• energy,
• eco-responsibility,
• mobility,
• sport,
• tourism,
to send entries into this competition designed to reward a flagship project for the mountains in 2030. After the closing date for entries on September 30th 2021, 10 applications will be short-listed by the jury.
The 10 lucky finalists will then be invited to come and pitch their idea before the jury, in Courchevel, on December 10th-12th 2021. This will also be an opportunity to chat and share ideas with leading figures and peers. At the end, one team will be declared the winner, and awarded a cheque for 30,000€ to go towards the development and implementation of its project.
A STELLAR JURY
Some of the most influential figures in connection with the mountains and digital technology have come forward to support these young businesses and thus each do their bit in helping to shape the future of the mountains.
Inès LEONARDUZZI I President, Digital for the Planet
Bertille TOLEDANO I President, BETC
Xavier COURT I Co-Founder, Veepee
Camille REY-GORREZ I Director, Mountain Riders
Pascal de THIERSANT I President, S3V
Perrine PELEN I President, Courchevel-Méribel 2023 FIS Alpine World SkiChampionships Committee
Grégory TREBAOL I CEO, Easybike-Solex
Jean-Yves PACHOD I Mayor of Courchevel
MET: A FLEXIBLE INITIATIVE SET TO CONTINUE
In 2021, Mountain Ecology Technology (MET) will present the winning start-up with a cheque for 30,000€.
In 2022, Courchevel hopes to go further still. Whilst maintaining the start-up competition, the resort will also launch the first International Innovation Forum, bringing together stakeholders already invested in the competition's central themes. Contributors, companies, NGOs and partners will be in the limelight.
In 2023, Courchevel will officially open its international mountain innovation incubator: Courchevel Hub. This will enable start-ups not only to be rewarded but also supported in their growth by being incubated within the resort itself. Courchevel will become a nerve centre for digital design in and for the mountains.
MET 2021 PROGRAMME
FRIDAY DECEMBER 10TH Arrival and setup of participants and the jury in the afternoon
SATURDAY DECEMBER 11TH Competition from 2.00pm to 5.00pm with pitching of projects before the jury Prize-giving ceremony at 7.00pm Networking at 8.00pm
SUNDAY DECEMBER 12TH Skiing and departure of the participants and jury
Share This Article