Countdown Is On For Slide & OTS Winter, New Trail Running Zone At OTS Summer Show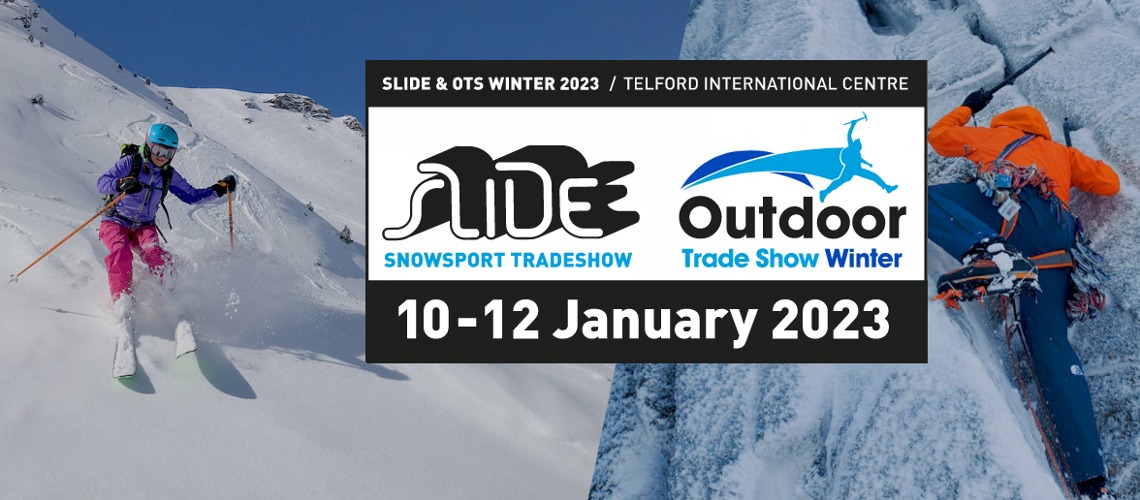 Several new exhibitors have recently confirmed their attendance at the UK's snowsport and outdoor trade show which is now only six weeks away. The latest ones to add to the already impressive line-up of leading brands include Spyder, Shokz, SunBum, Darn Tough, CLWR: Colourwear, Kelty & Sierra Designs, Wipeout, Winter Insight, Eddie Bauer, Movement, Grubs Boots and Intuition. All now feature on the updated floorplan and there are only a few remaining stand spaces available for brands wishing to take advantage of this unique opportunity to showcase next seasons new Autumn / Winter collections to retail buyers.
Taking place from the 10th – 12th January 2023 at the Telford International Centre, Slide & OTS Winter covers a larger floor area with 95 snowsport and outdoor companies already reserving exhibition stand space at the show. The 2023 show is one not to be missed for anyone involved in buying or selling into the trade. Show Organiser, Lesley Beck urges anyone who is still thinking about exhibiting to get in touch to discuss last minute stand opportunities. The latest floorplan can be viewed HERE. Online booking is available online HERE
Visitors can pre-register online HERE to enable easy access to the show and there are several features and events at the show not to be missed including the Slide & OTS Winter 2023 Show Awards which are on display throughout the show on stand F22.
Exhibitors have been invited to enter products into the Awards which recognise and reward brands for technical innovation and excellence. The awards are spread across six different categories Snowsport Hardware, Outdoor Hardware, Software, Accessories as well as a 'Fresh Brand' category which is open only to new brands or first-time exhibitors at the show as well as an 'Eco Award' for brands that show particular environmentally friendly credentials. Winners will be able to gain valuable awareness for products at a time when they present their ranges during the critical selling-in period. Entries need to be submitted by Friday 2nd December 2022 using the online entry form HERE.
Tuesday evening @ 6pm sees complimentary Networking Drinks in the café area, hosted by the show, for exhibitors and visitors to the show and the Sustainability Breakfast generously supported again by Rab & Lowe Alpine kicks off @ 8am on Wednesday morning with an impressive line-up of guest speakers.
After the show closes on the Wednesday evening, the SIGB AGM and Open Forum discussion together with the announcement and presentation to the winners of the awards will take place at 7pm in the Newport Suite.
Meanwhile, OTS is pleased to announce a collaboration with the Running Industry Alliance (RIA) which has many members in the running market and trail space. This will see the creation of a dedicated "Trail Running Area" within the 2023 show for specialist trail running brands.
Embracing all aspects of the outdoor market, OTS aims to provide a cost-effective platform for brands and distributors to showcase seasonal products to retail audiences, and annually the show attracts buyers from all the leading independent outdoor stores and major multiples.
Adding this new dynamic to the show will bring 'RIA Members' clothing and footwear brands focussing on Trail Running and overall compliment OTS's existing wide spectrum of outdoor equipment, clothing, footwear and accessory brands. This initiative will attract new brands and their respective customers to the show, helping to broaden the retail audience.
Taking place at the Exhibition Centre, Liverpool (13th – 15th June) the show is now entering its 17th year and is firmly established as a key event for the UK outdoor trade. Over 60% of floor space has already been allocated to a range of outdoor brands with 76 exhibitors announced to date. The RIA member hub of 300 sq. metres at OTS will provide the opportunity for like-minded trail running clothing and footwear brands to network and RIA will have its own dedicated stand space to host its members.
Commenting on the new partnership, OTS Organisers, Alasdair Scobbie and Marta Williams from MCS PR & Events said: "OTS caters for many different segments of the overall outdoor market and we are keen to keep on expanding into new and associated product areas. We are so pleased to announce the latest collaboration with Running Industry Alliance (RIA) which provides a dedicated hub within the show for specialist trail running brands. This new dynamic will attract new brands and a different profile of retailer buyer to the 2023 show and we aim to build on this in the future."
Co-Leads Rebecca Richardson and Jonathan Midwood from RIA said: "We are delighted to announce this progressive partnership which supports RIA Members by utilising the RIA Trail Running Area at OTS. June is the perfect time for SS24 sell in and in such a great location at Exhibition Centre Liverpool, which proved a winner in 2022 for exhibitors and visitors with year on year increase in attendance and buyer spend. The Outdoor Trade Show (OTS) is the UK's only dedicated large scale outdoor sport and leisure focused trade show, and Running Industry Alliance is proud to create a Trail Running Hub for RIA Members, supporting the industry, creating new opportunities for RIA Members and working closely with OTS and OIA amongst other trade associations showing "Stronger Together in action."
Share This Article