CIBC Adds Spinning Penguin To Whistler Ski Thu ATM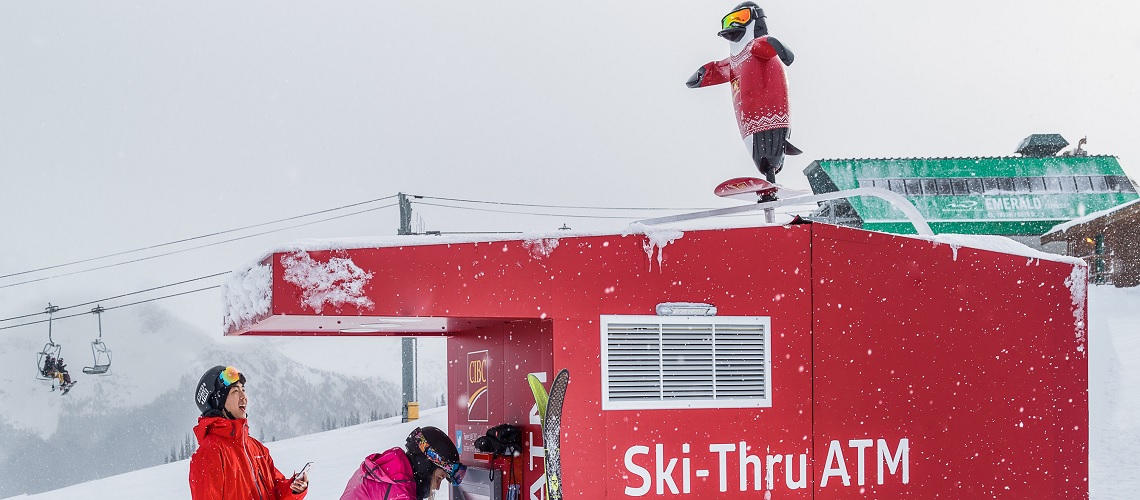 You read the headline and thought... the team at SIN are publishing drunk aren't they. The headline reads like words pulled at random from a ski helment. No, it's all true, like everything on SIN.
Last year, the Canadian Imperial Bank of Commerce installed the world's first ski-through ATM at Whistler Blackcomb ski resort in British Columbia.
The kiosk, replete with heat lamps and ski pole- and glove-holders, delivered banking transactions "at clients' ski tips," according to a CIBC press release.
Not content to go another around with the same concept for the 2018 skiing season, CIBC topped itself — and its slopeside attraction — with an animatronic snowboard-riding penguin that does a perfect 360 with any Twitter user's tweet that includes @CIBC and the hashtag #SkiThruATM.
What's more, every time "Percy the Penguin" takes a spin, CIBC donates $1 to Alpine Canada, up to a maximum of $10,000, in support of the country's three national ski teams: Canadian Alpine; Para Alpine; and Ski Cross.
The ATM stands 8.5 feet high, weighs 4676 pounds and is located 1,850m (6,069ft) above sea level, complete with ski pole and glove holders and heating lamps,
"We're thrilled to partner with North America's premier resort to offer even greater experiences for all who enjoy its beauty and world-class amenities," says Stephen Forbes, Chief Commercial Officer, CIBC. "CIBC is always looking to improve our clients' experience, whether in a banking centre or on the slopes, and our new ski-thru ATM at Whistler Blackcomb is just one of the many ways we're reaching clients at new heights."
The stand-alone ATM allows skiers easy access to cash for things like making purchases at certain cash-only vendors before journeying back down the slopes, and offers the same range of banking services available at all CIBC ATMs. To reach clients at the peak, the ATM made a momentous trek up the mountainside to the summit of Whistler Mountain.
Bringing the partnership to life, CIBC is working alongside Whistler Blackcomb to deliver world class hospitality at the resort's two Guest Satisfaction Centres -- the heart of activity for inquiring guests. To further amp up the visitor experience, CIBC is also offering whistles, tissues and hand warmers as part of Whistler Blackcomb's free mountain orientation tours. Visitors will also experience unique CIBC activations on CIBC National Ski Day, Family Day and Canada Day to help celebrate Canada and CIBC's shared 150th birthday in 2017.
"We are very excited to be celebrating the launch of our new corporate partnership with CIBC," says Morag Kerr, Strategic Alliances and Partner Marketing Manager at Whistler Blackcomb. "CIBC is Whistler Blackcomb's first ever full-service banking partner and their commitment to delivering exceptional guest experiences aligns perfectly with our goals. We look forward to working with CIBC to better service our guests in unique and exciting ways as we move forward."
Share This Article