Bolle Nominated For Best Use Of Filters And Lenses In 25th Annual Webby Awards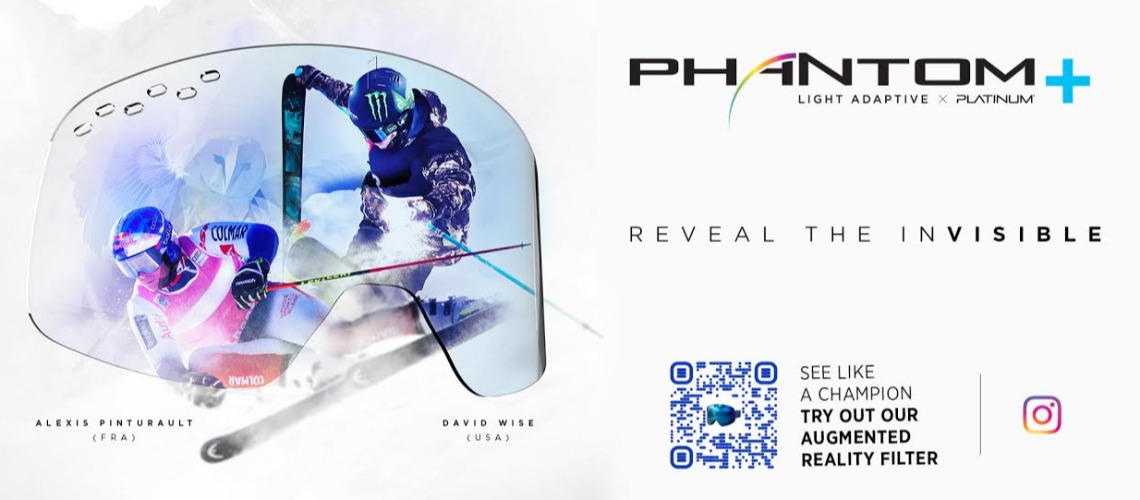 Bollé announced today it has been nominated for Best Use of Filter and Lenses in the 25th Annual Webby Awards. Hailed as the "Internet's highest honor" by The New York Times, The Webby Awards, presented by the International Academy of Digital Arts and Sciences (IADAS), is the leading international awards organization honouring excellence on the Internet.
Bollé, a leading maker of performance goggles, helmets, and sunglasses, has been nominated specifically for: "Best, most innovative, and effective or creative use of social media filters or lenses to enhance and convey information through posts/ stories/photos/videos. Platform agnostic."
Bollé launched an AR filter last winter that allowed consumers to not only virtually 'try on' Bollé helmets and gogglesbut also 'try-out' Bollé's exclusive Phantom lens technology and experience Bollé in their own environment before purchasing. The technology changes the face of retail by allowing retailers to capture sales without having to have customers visit their store to physically try on Bollé products. Due to the overwhelming success of the program at retail, the technology is being rolled out into more styles for the current spring & summer selling season.
"AR has routinely been used for try-on and certainly enhances the buying experience. But this is the first time it's been used to provide a 'try-out,' experience," said Louis Cisti, Vice President of Global Marketing for Bollé Brands. "With retail's shift to socially distanced in-person shopping, Bollé is offering customers personalized augmented access to their technology without having to go to a store, wait in lines or worry about social distancing. Consumers demand shopping encounters that minimize physical interaction. However, when it comes to buying premium products, they still have high expectations and expect to see tangible benefits. This unique AR experience does all that heavy lifting. Shoppers get to see perceivable performance benefits before making a purchase," said Cisti.
Bollé, in partnership with QReal and M7 Innovations developed the advanced technology to enhance outdoor experiences for athletes

and outdoor enthusiasts. The filter provides an exact match to what users would see if they were actually wearing Bollé's Phantom lens in sunglasses or goggles. To try the experience, users simply click on a QR code.
IADAS, which nominates and selects The Webby Award Winners, is comprised of Internet industry experts including Mitchell Baker; MOMA Senior Curator Paola Antonelli; Host of NPR's Code Switch Shereen Marisol Meraji; R/GA Global Chief Creative Officer Tiffany Rolfe; Co-Inventor of the Internet Vint Cerf; DJ and Founder, Club Quarantine D-Nice; Co-host Desus & Mero on Showtime Desus Nice; SVP of Content at Twitch Michael Aragon; Twitter Senior Director, Product Design Richard Ting; and Founders of VERZUZ Swizz Beatz and Timbaland.
"Nominees like Bollé are setting the standard for innovation and creativity on the Internet," said Claire Graves, Executive Director of The Webby Awards.
It is an incredible achievement to be selected among the best from the 13,500 entries that were received this year," said Cisti
As a nominee, Bollé is also eligible to win a Webby People's Voice Award, which is voted online by fans across the globe. From now until May 6th at 11:59 PM, Bollé fans can cast their votes at
Winners will be announced on Tuesday, May 18, 2021, and honored in a star-studded, virtual show that will be available on demand. The celebration will be hosted by multi-talented actress, writer, podcaster, host and advocate Jameela Jamil. Winners will have an opportunity to deliver one of The Webby Awards' famous 5-Word Speeches. Past 5-Word Speeches include: Steve Wilhite's "It's Pronounced "Jif" not 'Gif'; NASA's "Houston We Have A Webby"; and Solange's "I Got Five On It."
Share This Article