Beat Feuz Takes DH Globe As Dominik Paris Wins Soldeu Race.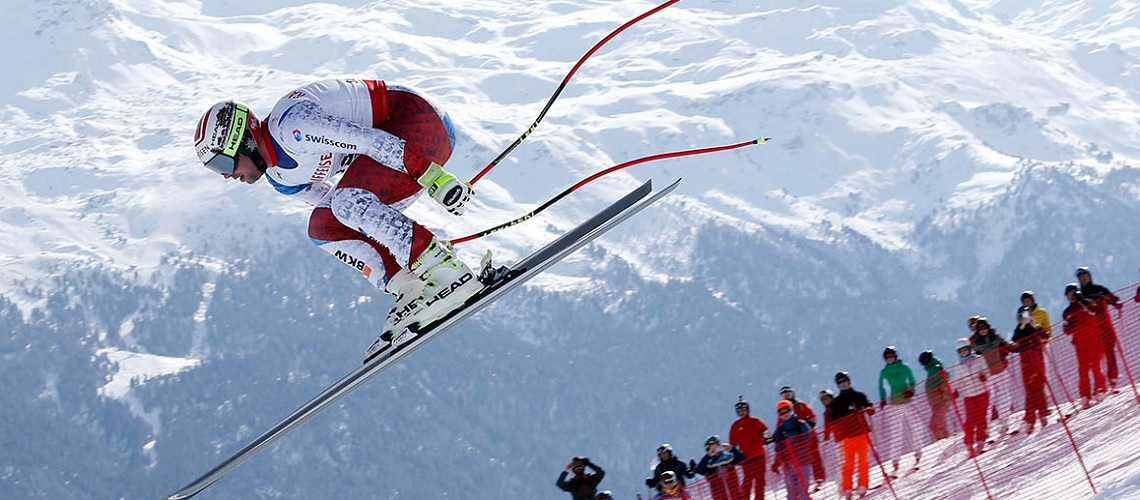 What a thrilling day at the Audi FIS Ski World Cup Finals in Soldeu El Tarter, where the downhill events took place today, with Beat Feuz clinching the globe and Dominik Paris winning the race.
Only two athletes had a shot at the globe before today's race. Switzerland's Beat Feuz was in the lead, 80 points ahead of Italy's Dominik Paris. The two men have been battling all season long and delivered their best performances day after day. Beat Feuz podiumed in 6 out of 8 downhills and won one of them in Beaver Creek. He's been extremely constant and pushed his limits to earn his second straight World Cup Champion title, despite finishing "only" at the 6th place of today's race.
It's a fourth win this season, and the third in a row for Dominik Paris. The South Tyrolean climbed on the highest spot of the podium in Bormio, Kitzubehel, Kvitfjell and now here in Grandvalira Soldeu - El Tarter. With these performances, he now has 12 downhill World Cup wins under his belt and became the most successful Italian downhill racer, tied with Kristian Ghedina. Paris will have a chance to grab his first globe in career tomorrow in the super-g, where he is in the lead of the standings, 44 points ahead of Vincent Kriechmayr.
The Austrian Kriechmayr, who won in Wengen this season, is the one who completed the Downhill season ranking's podium. Another Austrian managed to podium today, as Otmar Striedinger finished in third place of today's downhill. After a surprising third place in the downhill in Kitzbuehel, Striedinger confirms that he's back in his best shape and scored his best season ranking in downhill, finishing 11th. Also downhill World Champion Kjetil Jansrud can look back at a successful day, as he claimed his first podium of the season in that discipline on the World Cup. He has been struggling in that discipline so far but is finding his pace again since the World Championships in Are.
Travis Ganong (Squaw Valley, Calif.) led the Americans, finishing 10th.
In his comeback season from a season-ending knee injury sustained in December 2017 that had him sidelined for the PyeongChang Olympic Games, Ganong was able to progress steadily and find the flow to get back to racing speed. "I finally feel like I'm starting to find my speed and my confidence in my skiing," Ganong reflected. "It's too bad the season is over now, but it's good to go into the prep period and into the summer with a little confidence and mentally knowing that I still have it and I'm fired up for the next year."
The track was a new one for the men, and - as teammate Bryce Bennett (Squaw Valley, Calif.) had commented on after the second and final downhill training run on Tuesday - it was also a bit easier of a downhill track than most the men have seen this season. "It's the last run of the season in downhill," Ganong said after his run. "So it was pretty fun to enjoy perfect snow and a little easier track than we normally ski...so you can focus on enjoying the skiing. It's a really fun, kind of flowy hill, and there's no big scary jump or gnarly section." Norway's Kjetil Jansrud finished second, and Austria's Otmar Striedinger finished third to round out the podium.
Bennett struggled to find his timing on the track, finishing 21st and slipping back from sixth in the overall downhill standings to seventh. However, after finishing 20th in the 2017-18 standings, Bennett far exceeded his expectations this season. "Last night I was spending a little time reflecting on the goals I had written down for myself, and my goal this season was to become top 15 in the world," Bennett commented. "Which means you have to be consistently in there every weekend. And there were a few weekends in there this season where I really surprised myself, where I was like, 'Wow, I can compete with these guys when all of the pieces are in line.' So, I far exceeded my expectations about three races into the season, and I was able to keep it going for a while."
A little bout of food poisoning and a lack of energy as a result of traveling all season and living out of a duffel bag away from North America caught up to Bennett in Andorra, though, slowing him down a tad. "Unfortunately, here I got a little food poisoning and I was really on the edge already with energy, and it's been really tough for me," Bennett said. "But it is what it is, I'm safe and hopefully we can make a few adjustments coming into next season and put ourselves into an even better position."
What will it take for Bennett to win the downhill title - something no American has done before - someday? "You need that experience - of just living and competing in Europe - and also your equipment needs to be in line every single weekend and you have to understand what you're doing at all of these venues," Bennett remarked. "For me, personally, if I can manage through the North American series and then put the hammer down through all of the classics, I'll set myself up for a position to have a chance at a title. The classic downhills are what really get me fired up for racing World Cup downhill, so managing the pieces when you're not at the classics and then putting the hammer down when it's the real downhills."
Veteran teammate and mentor to Bennett, Steven Nyman (Sundance, Utah), ran into some trouble after clocking a fast top split, and finished 16th in Wednesday's downhill, pushing him to 16th in the season standings. Ganong finished 20th in the season downhill standings.
Tomorrow is super-g day. The cup standings are wide open, with not less than six athletes who could still grab the globe. Among them, today's race winner Dominik Paris, Austria's Vincent Kriechmayr, 2016 globe winner Aleksander Aamodt Kilde, 2015, 2017 & 2018 globe winner Kjetil Jansrud, Olympic Champion Matthias Mayer and Switzerland's Mauro Caviezel.
Share This Article