Alta Badia - Pre-Registrations For The 36th Edition Of Maratona Dles Dolomites Open On October 12th 2022.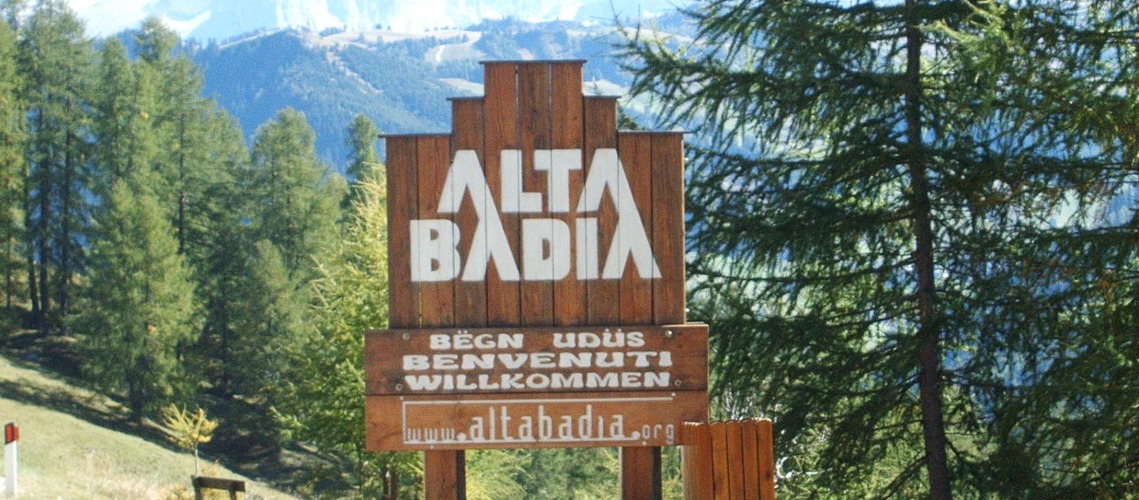 he 2023 Maratona dles Dolomites - Enel logo focuses on one of the most pressing issues and is targeted especially at people born before the technological invasion dictated the current pace of our existence: Will we ever go back to being 'human' again?
The logo is a barcode in which we read Umanité, a reminder of the fact we are truly running the risk of losing our humanity. We are codified, classified and monitored. Are we just a barcode too or is there a way out?
We are lucky to have been born at a time when we were allowed to be bored, when we were not controlled by algorithms nor guided by a GPS. Will we ever be able to re-establish contact with real life, returning to concrete, modest, mundane things? The Umanité logo is an invitation to let ourselves be guided by our instincts, not by an app; to form a memory rather than to photograph it; and to fully live our lives instead of scrolling through those of others. A more human life for the good of humanity.

Higher safety and better quality: the confirmed number is 8,000 participants
There will be no more than 8,000 participants joining 2023's Maratona. The organising committee has made this choice to ensure the event is as safe as possible and that the highest quality services are provided. Participation will be split, as per usual: 50% Italian and 50% foreign cyclists.

Here are the details of how to get a bib:
- on-line pre-registration on the website: www.maratona.it<http://www.maratona.it> between October 12 and November 2, 2022 with participation in the draw which will take place in the second half of November 2022
- purchasing of an accommodation package (minimum 4 nights) + guaranteed registration, which are managed and sold from October 12, 2022 on the website of our official tour operator, Holimites: www.holimites.com<http://www.holimites.com>
For further international official tour operators (including contacts) please visit www.maratona.it/en/tour-operator-en<http://www.maratona.it/en/tour-operator-en>
- charity registrations which are sold on-line only on the website: www.maratona.it<http://www.maratona.it> on November 22, 2022 and on March 22, 2023. Find out more on the following link: https://www.maratona.it/en/charity-entries-2023

The big three
It's a well-known fact that there are three Maratona dles Dolomites – Enel trails with three different levels of difficulty. It is also known that the trails traverse epic passes of the Dolomites, which are closed to traffic on the occasion: Campolongo, Pordoi, Sella, Gardena, Falzarego, Giau, and Valparola.
The fascination with the Maratona is encompassed in a memorable sequence of bends that bow down to the rocky peaks. Forgetting about apps's and socials for a few hours can be good for your health but also beneficial in order to feel alive and, in the struggle and beauty, help us acknowledge that humanity desperately needs informed humans.

- The Maratona: 138 km long with a difference in altitude of 4230 m
- The Medium One: 106 km long with a difference in altitude of 3130 m
- The Sellaronda: 55 km long with a difference in altitude of 1780 m

SELLARONDA BIKE DAY AND DOLOMITES BIKE DAY: TWO EVENTS WHICH BRING TOGETHER BEAUTY AND SUSTAINABILITY
For those who cannot participate in the coveted Maratona dles Dolomites-Enel, Alta Badia offers three more days dedicated exclusively to cyclists.
It starts on Saturday 10 June with the Sellaronda Bike Day, an event that will be repeated on Saturday 16 September 2023, while Saturday 24 June 2023 is the turn of the Dolomites Bike Day.
These events are non-competitive and accessible to all cyclists, without registration. For the occasion, the Dolomite passes Gardena, Sella, Pordoi and Campolongo on the day of the Sellaronda Bike Day, and Campolongo, Falzarego and Valparola on the day of the Dolomites Bike Day, will be strictly closed to motorised traffic from 08.30 a.m. to 4 p.m. www.altabadia.org<http://www.altabadia.org>
Share This Article