32nd Int. Libro Balloon Cup Kicks Off In Brixental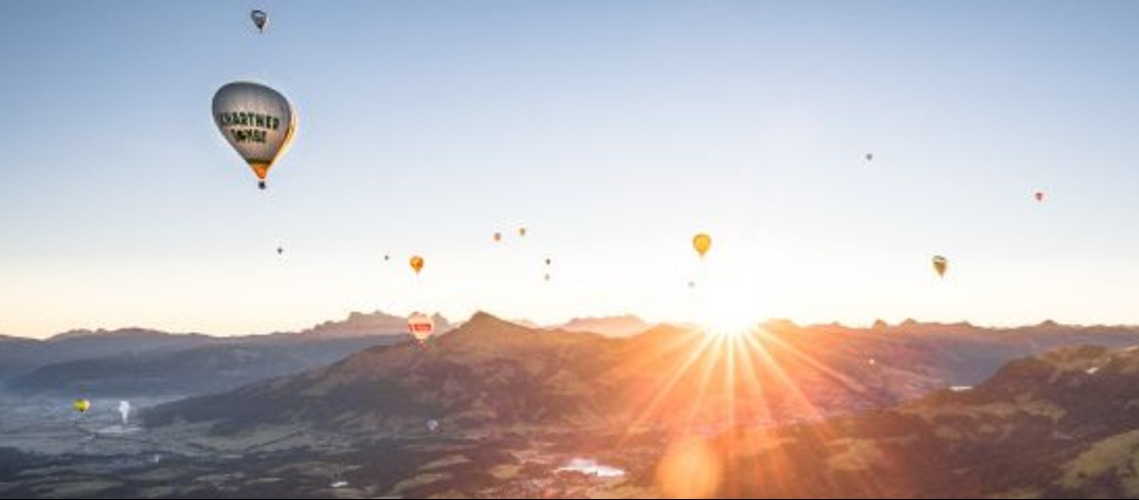 Finally the sky in the Brixental is colorful again - full of colorful hot air balloons. From September 18th to 25th, 37 balloon teams from 6 nations will meet at the 32nd edition of the Int. Libro balloon cups to compete with each other. Especially the night of the balloons will be an absolute highlight again.
Int. Libro Ballon Cup © Mathäus Gartner
Adrenaline and endorphins are guaranteed - for young and old, for spectators and passengers. Teams from Austria, Germany, Great Britain, France, Belgium and Switzerland start the daily races. Mountain and valley winds make the daily competition runs interesting. The official starting point is again at Stöcklfeld in Kirchberg - depending on the wind conditions and the task, the balloon teams also start in other locations in the region.
One of the highlights during the balloon week is the traditional "Night of the Balloons" on Sunday, September 19th (alternative date on Wednesday, September 22nd) at 7:00 pm at the Stöcklfeld in Kirchberg. The lighted balloons can be viewed to match the music. The Libro Children's Festival starts at 2 p.m. with model balloons, a giant slide, a bouncy castle and much more. Controlled access for all participants and visitors in accordance with the applicable statutory provisions.

On Tuesday, September 21st, the organizers are planning a romantic sunrise trip at 6 a.m., weather permitting. On Wednesday, September 22, the evening start of all balloon teams in Brixen will take place at the Brixnerwirt field behind the community. With their start on Thursday, September 23rd at 5 pm at the chicken farm (Mühltal) in Westendorf, the Ballon Cup participants provide an attractive supporting program for the popular "Schau zuichi Markt".

Guests can also catch this extraordinary experience - which most will not soon forget - on a public trip. Providing active support during the assembly and dismantling of the balloon is also one of the tasks of the passengers. For this you will be rewarded with a unique silence and a fabulous all-round view of the Kitzbühel Alps. Afterwards, the passengers are raised to the nobility of balloonists with the traditional baptism.

The competition and public drives take place daily at 8 a.m. and 5 p.m. A balloon ride is offered during the Libro Ballon Cup at the special price of € 260 (evening rides for € 220). Public trips can be booked at the tourist office on 0043 57507 - 2000 or 0043 664 99921230.
Program highlights:

Saturday, September 18, 2021
from 8.00 a.m .: Free driving and public trips
from 4.30 p.m .: Free driving

Sunday, September 19, 2021
From 8.00 a.m .: welcome trip for the Ballon Cup participants
from 2 p.m .: Libro children's party at Stöcklfeld in Kirchberg - model balloon show
from 4.30 p.m .: competition and public drives
from 7 p.m .: night of balloons and fireworks at Stöcklfeld in Kirchberg

Monday, September 20, 2021
From 3.30 p.m .: model balloon show
from 4 p.m .: Autumn delicacies with live music by the "acoustic duo Doping" at the Seefeldstube
From 5 p.m .: Hopperchallenge (single seater)

Tuesday, 09/21/2021
From 5.45 a.m .: sunrise trip alternative date Wed / Thu
From 4 p.m .: model balloon show

Wednesday, September 22nd, 2021
From 5 p.m .: Hopper challenge and start of all balloon teams at the Brixnerwirtsfeld in Brixen im Thale
from 7 p.m .: Alternative date for the night of the balloons

Thursday, September 23rd, 2021
From 5 p.m .: Hopper challenge and start of all balloon teams at the Mühltal chicken farm in Westendorf
Share This Article