New TechnoAlpin System For The World Cup At Plan De Corones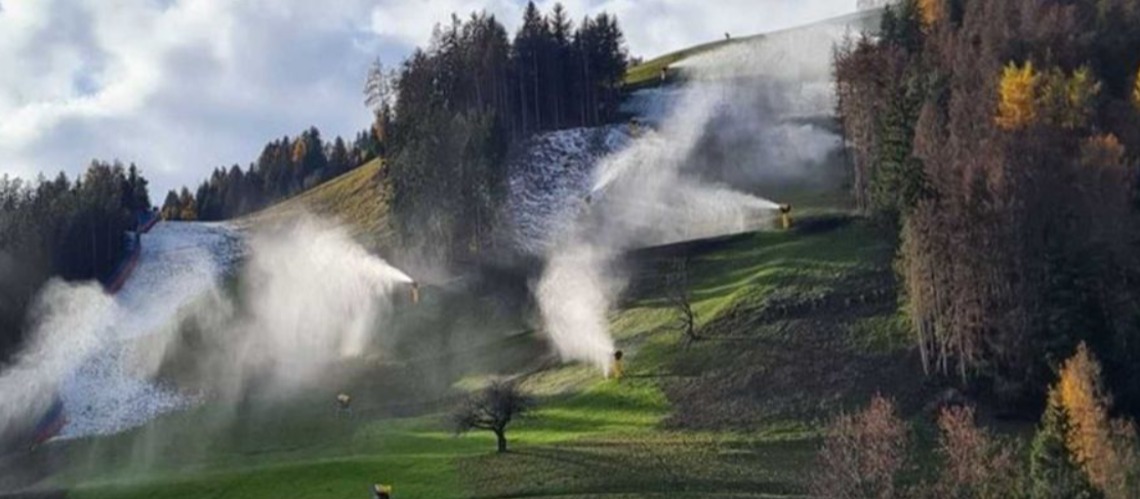 On January 24th, the Alpine Ski World Cup will again be a guest on the Kronplatz. The women will compete in giant slalom over a length of 1,325 meters and with a maximum gradient of 70%. For the first time, the snow for the event will come entirely from a TechnoAlpin system.
Since 2017, the giant slalom on the challenging Erta slope on Kronplatz has been an integral part of the World Cup calendar. This summer, the snowmaking system along the piste was completely renewed. TechnoAlpin was awarded the contract: "We have been working with TechnoAlpin for almost 20 years in the field of pumping stations and have always been very satisfied. However, we have found that there are sometimes difficulties when the entire system does not come from a single source. We wanted to change that this year. After an intensive test phase, we finally decided to switch completely to TechnoAlpin," explains Danny Kastlunger, technical director of the St. Vigil cableways and OC boss of the World Cup.

Over 70 new snow guns were installed in the summer, around 60 of which are models TT10 and TT9, which, with their tiltable tower, combine the advantages of a tower machine with the easy maintenance of a mobile device. "We tested the TT10 for two years and never had a problem. The installation with the protective mat on the support is visually very appealing and the maintenance of the devices brings many advantages in terms of occupational safety," says Danny Kastlunger.
Those responsible in San Vigilio are not only impressed by the product quality, but also by the support provided by TechnoAlpin. "TechnoAlpin gave us the best possible support right from the start and did everything to ensure that the system was completed on time despite the difficult conditions. Commissioning was carried out in October and it was also handled extremely professionally. Each machine was checked twice so that there were no difficulties at the start of the snowmaking. The summer maintenance is crucial for a smooth snow start," reports Danny Kastlunger.
The meticulous work paid off. The pistes in St. Vigil were opened for the first time on December 1st. Working with the new system and also with the new ATASSpro software ran without any problems. "ATASSpro is so intuitive that there were no difficulties in using it. The mobile phone app is also very well designed and is used a lot by our team," reports Danny Kastlunger.
Share This Article