Snowboarding Makes Me Happy: A Book Of Finding Happiness Launches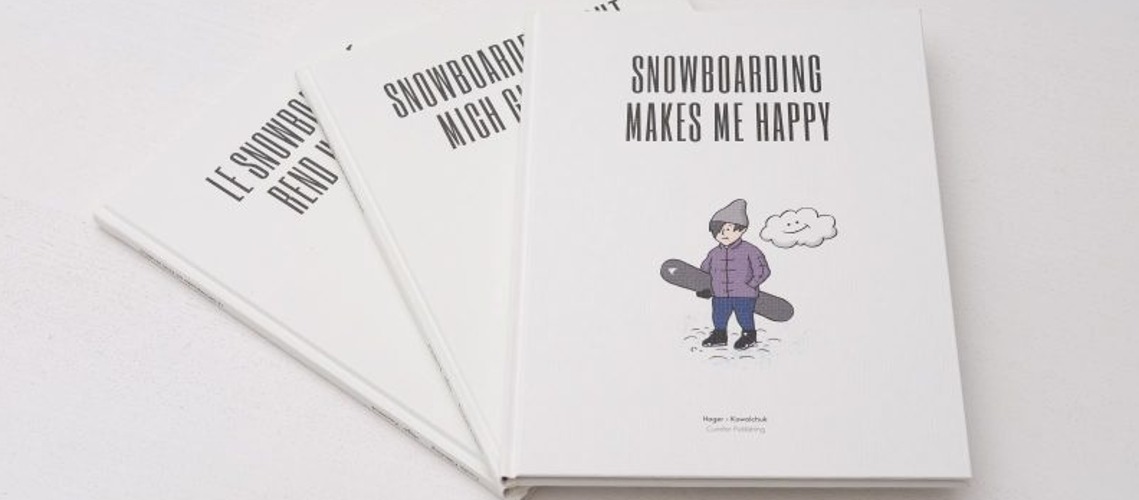 SNOWBOARDING MAKES ME HAPPY is an illustrated children's book by Tassilo Hager and Mark Kowalchuk. It tells the story of a boy who discovers snowboarding and with it the key for his personal happiness. Suitable for reading aloud or for children from a reading age of 8 years. Available in English, German and French on https://curatorpublishing.com and at selected snowboard retailers.
Although the city Lucas lives in is full of people, he spends a lot of time on his own. While the other kids are occupied with sports after school, he often strolls through the park and ponders on all sorts of things. One winter day, the boy watches someone riding down the big hill in the park on some mysterious board. Lucas has never seen anything like it before. From that moment on, his life is no longer the same.
Lucas is one of many kids whose worries and problems disappear into the anonymity of the big city. He lives his life without any great ambitions, without any hobbies, without anything that really drives him. Outside of school, he has hardly any contact with other children, and he doesn't find the courage to do anything about his stalled situation himself. This suddenly changes when he discovers snowboarding by chance. For the first time in his life, giving up is not an option. His perseverance pays off as Lucas makes new friends, begins to feel pride for what he has achieved and learns what it means to be truly happy.
"Being happy is more important than any talent, and I'm afraid we don't give it enough importance in our everyday lives. I owe many of my happiest moments and some of my best friendships to snowboarding. For me, it has never been about success in sports, but always about the joy of trying something new. Snowboarding has stimulated my creativity, made me more resilient to failure and encouraged me to think outside the box. In life there are different ways to discover happiness, and in my case, snowboarding is a very important part of it." – Tassilo Hager
About the author: Tassilo Hager lives in Munich, Germany, with his wife and son, where he works as a journalist, author, and translator. After completing his master's degree in linguistics and media law, he completed a postgraduate degree in Book Studies. In 2018, he founded Curator Publishing with the aim of establishing an independent international print publication for snowboarding. Three volumes of the series "CURATOR – Culture of Snowboarding" have been published and are read in over 50 countries worldwide.
About the illustrator: Mark Kowalchuk is a Canadian illustrator and graphic designer with a degree in Fine Arts and a diploma in Design. In addition to working with numerous snow and skateboard brands, his illustrations can also be found in publications such as Thrasher Skateboard Magazine. He lives in Calgary, Alberta with his wife and son.
Thank you to Burton for supporting this book project. With the CHILL Foundation (started by Jake and Donna Carpenter 1995), Burton helps thousands of kids and teenagers every year to overcome personal challenges. An encounter with a CHILL participant inspired the author to write down this story.
SNOWBOARDING MAKES ME HAPPY is published in English, French and German.
Release date: 15.12.2021
52 pages hardcover (FSC-certified and climate-neutral printing)
Price: 19.99 Euro
Publisher: Curator Publishing, Munich, Germany
Printed by: F & W Medien, Kienberg, Germany
Share This Article