Sustainable Tourism In The Wilder Kaiser To Be Summer Campaign Focus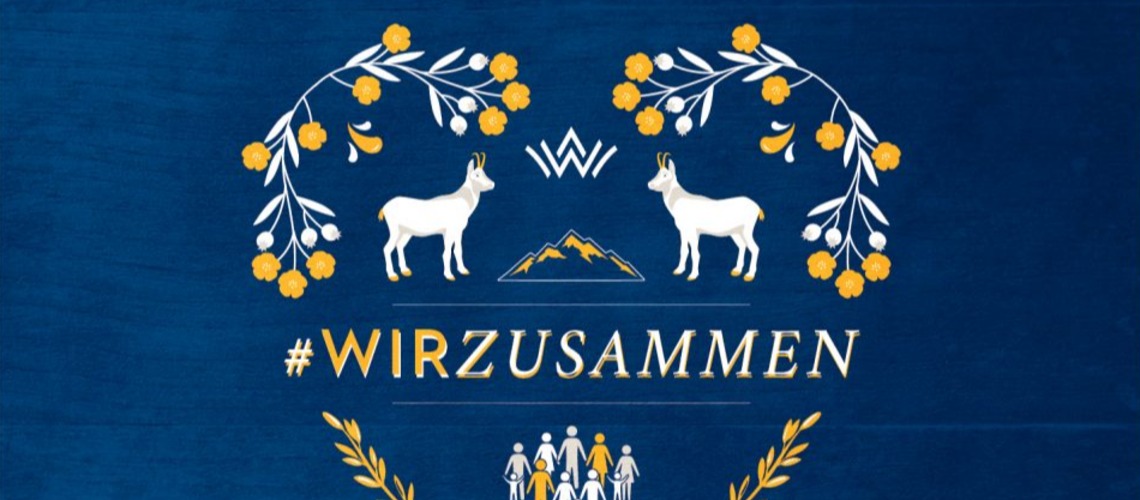 Work program and new campaign: The TVB Wilder Kaiser has dealt intensively with the quality of life in the region and anchored ambitious goals in its self-image.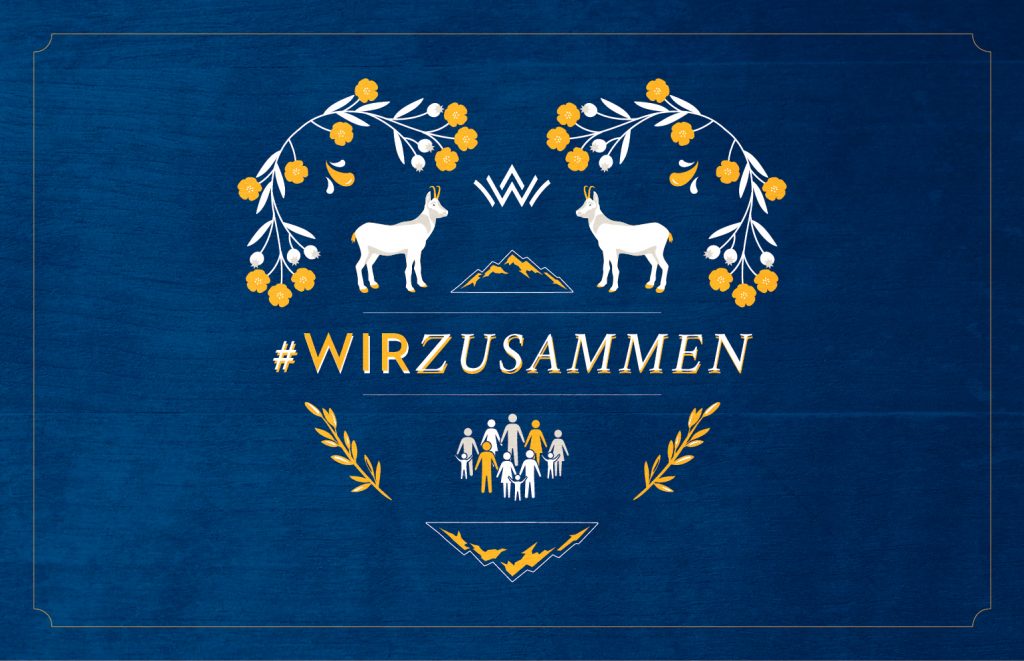 #We together: The new campaign on the Wilder Kaiser. © TVB Wilder Kaiser
Enjoy hiking, fresh air and unspoiled nature - without having to drive hundreds of kilometers by car? Kilometers of fun on the slopes without disturbing nature or negatively affecting the climate? To live from tourism, but not sacrifice nature conservation or the needs of the people who live in the region all year round for the number of overnight stays and sales?
As a region that lives from tourism, one knows at the Wilder Kaiser: There is no simple answer to any of these questions, not all of these areas of tension can be resolved immediately. But it is also clear: If the environment and society are to be led into a sustainable and livable future, it is time to actively shape the world. And where should you start, if not in your own direct sphere of activity?
In 2017, under the motto "Quality of Life on the Wilder Kaiser", the tourism association asked exactly those questions that start here. In forums, discussion rounds and workshops, tourism experts, community representatives and citizens have devoted themselves to the question of what tourism can look like that is geared to the needs of all people living, vacationing and working here and thus taking responsibility for nature and Society takes over.
Self-image: "Quality of life through sustainable tourism"
This resulted in a solid program for the tourism association entitled "Strategy 2024", which has been implemented since 2019. The TVB Wilder Kaiser has put this strategy to the test in the past few months as part of the internal workshop series "Change as Opportunity" with professional support, sharpened it in some areas and expanded it where necessary. This resulted in the established self-image of a "quality of life through sustainable tourism" , which now forms the long-term foundation of all tourism work and the framework for future strategies. We realize this vision by listening and promoting dialogue, responsibility for nature and societytake over and thereby improve the quality of life and added value .
"Update" of Strategy 2024
On the other hand, the "Strategy 2024", which forms the framework for concrete - existing as well as future - initiatives and projects, was expanded to include a sixth field of action. At a glance:
We take responsibility for nature

(measures to save CO2, free public mobility on site, nature conservation, etc.)

We support regional cycles

(connection of agriculture, regional handicrafts and tourism, project "marketplace", etc.)

We promote the quality of life at the Wilder Kaiser

(measures for even occupancy throughout the year, no increase in the number of overnight stays in the main season, etc.)

We take on social responsibility

(promotion of dialogue and participation, respectful interaction with partners, associations, landowners, etc.)

We experience the region together

(attractive meeting areas in the town center, leisure infrastructure for everyone, taking everyone's interests into account at events, etc.)

We work in tourism

(regional improvement of the image of tourism as an employer, increasing the quality of work, project "Emperorhood", etc.)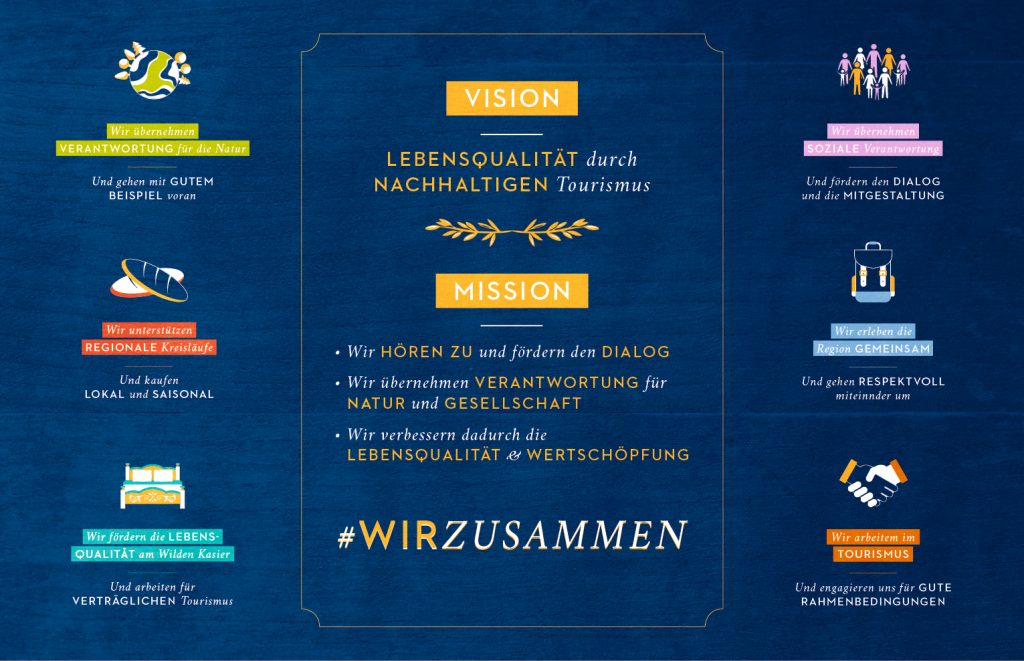 © TVB Wilder Kaiser
Lukas Krösslhuber, managing director of TVB Wilder Kaiser, explains why "Strategy 2024" was attacked again before it expired: "An update was actually only planned for 2024. In our workshop series 'Change as Opportunity', however, there was such a commitment and zest for action among the participants that we took the opportunity to take the next step now. And that means: taking on even more responsibility for people and nature. "
How is that implemented? "On the one hand, through a long-term self-image that is a very clear commitment to sustainable tourism at all levels. On the other hand, through concrete projects - both through existing ones, to which we want to dedicate ourselves even more intensively - from free on-site mobility, through green events and public welfare balance to dispensing with fireworks. But new project ideas that emerged directly from the process also illustrate the path we have chosen, "says Krösslhuber. A TVB project group is currently dealing with the topic of "Holidays without a car". Another group is working on how waste can be significantly reduced in hotels and restaurants. The third group deals with the protection of nature.
Campaign: #We together for a better quality of life
"I have often pointed out that tourism is not an end in itself, but one of several ways to improve the quality of life in a region. To do this, we have to deal with its positive aspects - such as leisure opportunities, infrastructure, gastronomy, social encounters and much more - but also honestly with the negative side effects such as traffic, energy and space consumption, noise, garbage or crowds. And find solutions together, "says Krösslhuber.
This "together" has shaped the "quality of life" process from the start and held the region together in the past few months of the crisis and allowed it to look ahead with optimism. This "together" is therefore also the "communicative core" of the new TVB Wilder Kaiser campaign. Just like the work program, it is based on the results of the quality of life process. Under the central claim # we together , it brings the six fields of action and the underlying values ​​and basic attitudes to the outside world. The central themes - from responsibility for nature to regional cycles and social responsibility - will soon also be visible in public space in six different subjects.
Josef Margreiter: "Thank you for pioneering work"
Josef Margreiter, Managing Director of Lebensraum Tirol Holding, was the "special guest" at the closing event of the TVB's internal series "Change as Opportunity" on the Brenner Alm. How does he classify the new self-image, the strategy with its six fields of action and specific projects, as well as the new campaign? "I am enthusiastic about the claim #we together. Because that shows that the new pattern of success for our future is not competition, but cooperation. I am really delighted that the Wilder Kaiser region is once again leading the way here - in a development that is overall very important for Tyrol. In the direction of sustainability, innovation, circular economy and so much more - these are the central future topics in tourism that TVB Wilder Kaiser is already implementing. This is pioneering work for which I would like to thank you, "said the former head of Tirol Werbung on the sidelines of the event.
Marketing Manager Muck: "Provide proof of performance"
"Even if the Wilder Kaiser is unique - many regions in the Alpine region have beautiful mountains. We want to tell our guests, but also the locals, openly and honestly what we stand for. And that sums it up perfectly: We have been shaping this region together for years. Together we will develop it further and together we are the key to a future worth living in, "said TVB Marketing Director Katharina Muck about the new campaign. "It is very important to us that we only communicate content in our campaign that is not empty shells, keyword: greenwashing. Everything we share with the outside world is based on our specific projects. Because credibility also includes not only presenting beautiful subjects - but also providing proof of performance, "says Muck.
Proof of performance: an overview of selected projects
Green Events: "Going LIVE" is now officially certified as a "Green Event". This means that strict guidelines ensure that everything from the straw to recycling after the concert is environmentally friendly . More information here ...
Saving CO2: Measures such as free, on-site public mobility and incentives for rail travel are intended to put a stop to the largest CO2 driver in tourism, "traffic". More information here ...
Public welfare balance: In 2019, the TVB Wilder Kaiser was the first tourism association in Austria to draw up a public welfare balance. It shows what contribution an institution makes to the common good through its economic activities. More information here ...
Nature conservation: The Wilder Kaiser has been a nature reserve since the 1960s. In order to preserve this unique natural area for future generations, we refrain from harmful behavior such as fireworks and help to raise awareness. More information here ...
The marketplace: regional and seasonal consumption of healthy food - that is the focus of the "marketplace", where suppliers from the region are brought in front of the curtain with their products. More information here ...
Emperorship - KaiserEDU: The emperorship as an association of committed employers in the region comes "from whining to doing" and is currently starting a training offensive to train missing skilled workers themselves. More information here ...
#We together - all projects at a glance. More information here ...
"Quality of life" project nominated for TRIGOS Award
Speaking of proof of achievement: The project "Quality of Life - Citizen Participation in Sustainable Tourism" also won over the nationwide expert jury of TRIGOS Austria 2021: The TVB Wilder Kaiser is nominated for the project in the "Exemplary Projects" category! The TRIGOS Award is the renowned award for responsible management in Austria, here you can find the information: http://www.trigos.at/trigos/home
Further links and information:
The "Quality of Life" project at a glance: More information here
The strategy in 2024 : more
Citizen participation in the Wilder Kaiser: More information here
Images and campaign subjects for editorial use in connection with this news item are available for download here.
( CREDIT : TVB Wilder Kaiser)
Share This Article