Michelin Starred Chef Phil Howard's Restaurant In La Plagne Montalbert Heads Into Second Season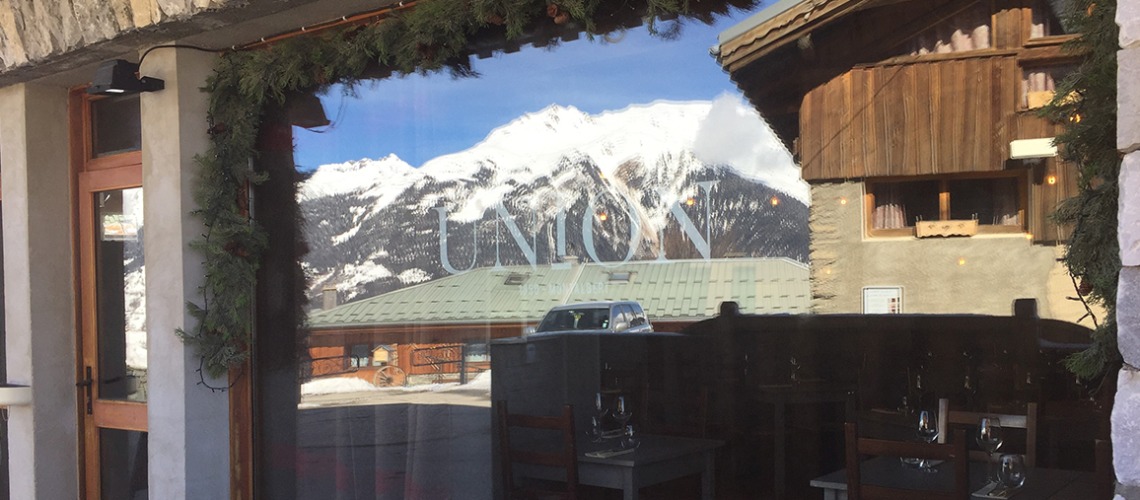 Michelin-starred chef and a recent culinary expert on the BBC's hit show "Great British Menu", Phil Howard is passionate about the Alps. So much so, that for the 2017/2018 season, he opened a bijou restaurant, UNION, in the village of La Plagne Montalbert. Montalbert, in the heart of the Paradiski area of La Plagne, Les Arcs and Peisey-Vallandry (425km of pistes; 264 pistes; 3,250m at the highest point of the ski area), is a pretty village which retains much of the charm sometimes lost in other purpose-built ski resorts. UNION is open for lunch and dinner 5 days a week (Tuesday to Saturday) and serves Modern French seasonal cooking using pure, seasonal ingredients, full of vitality and flavour. It has only 30 covers, but this season, there is a whisper of a new terrace, so keep your eyes peeled and ears to the ground… we'll let you know more in due course.
For the first half of his career, Phil ran The Square in Mayfair – a much celebrated 2 Michelin star restaurant. After 25 years, new pastures beckoned and he left to start his own restaurant, Elystan Street in Chelsea, where he earned his first Michelin star within a year. He and his business partner, the savvy operator Rebecca Mascarenhas have since been putting their efforts into the next generation of restaurateurs. Between them, they are behind 9 restaurants (8 in London and UNION in France*), encouraging ambitious young chefs and waiters to make it in the hospitality industry.
Phil's desire to open a restaurant in the Alps was driven by several factors. He lives in Montalbert with his family for part of the ski and summer seasons. Many hours spent with his friend, Martin Cuchet (who owns the ski shop in Montalbert) led them both to believe that there was a real demand for delicious seasonal food, different from the Alps' traditional fare of tartiflette and raclette. Phil cooks using the finest seasonal ingredients, harmonising flavour rather than employing too much technical wizardry. Both Phil and Martin, whilst being fond of traditional Alpine food, just wanted to offer something alternative to an eclectic group of hungry skiers, seasoned locals and food-savvy tourists.
This season's menu promises some favourites from last year like cashew nut hummus with roasted vegetables, a light curry dressing, nut milk and lime and an array of new dishes such as pesto glazed sea bream with conserved summer tomatoes, butter beans, cuttlefish and nduja. The infamous hand cut strozzapreti with an emulsion of chicken stock, black truffles and Parmesan is coming back too! And oysters during the party season. For those with a sweet tooth, chocolate and salted caramel tart with crème fraiche will be making its debut at UNION. Phil's team at UNION is small, friendly and efficient and he works closely with his chefs Tom and Rose to deliver a menu that they feel will have serious appeal.
They've also created an irresistible tasting menu – which offers a series of 8 delicious courses for €65. And, they're even open on Christmas Day – from midday to 6pm, serving up a veritable feast including truffled turkey broth; tartare of aged sirloin of beef with truffle, celeriac, beetroot and capers; breast of goose with crushed vegetables and hasselback potatoes and a croustillant of the leg with cranberries and, of course, Christmas pudding with brandy custard. Vegetarians and pescatarians can be catered for and the 4 course lunch will cost €60 (excluding drinks). Booking is essential, to book: +33 (0)4 79 55 51 07 or info@unionmontalbert.com
"Writing the menu for UNION is one of those fantastic opportunities to create food that is not only delicious and seasonal, but is there to give pleasure to hungry skiers after a day on the mountain. I love traditional Savoie food as much as anyone, but at UNION we create wonderful fresh, soul nourishing dishes that offer some respite from the usual fare." Phil Howard, Executive Chef.
You can find Union at Vieux Village de Montalbert, 73210 Aime, Savoie Rhône-Alpes. Union is open for lunch and dinner 5 days a week (Tuesday to Saturday) from 21 December 2019 to 18 April 2020
Share This Article