Event Recap: Modena Big Air World Cup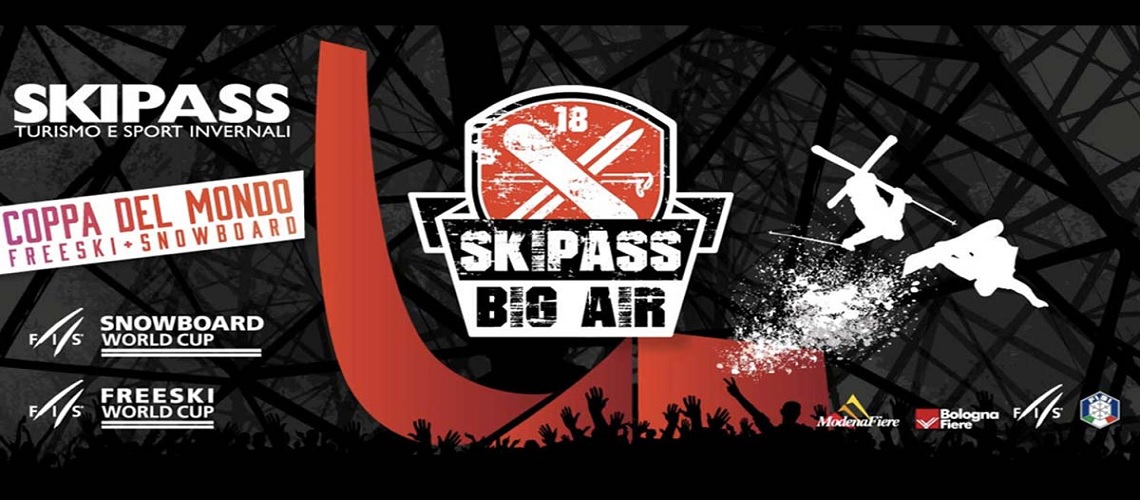 Rain throughout the day finally gave way to clear skies just in time for finals on Sunday evening in Modena (ITA), where Mathilde Gremaud (SUI) and Alex Hall (USA) were able to take advantage of the improved conditions to open the 2019/20 FIS Freeski big air season with victories at the Modena Skipass big air World Cup.
Gremaud finished off the 2019/20 big air World Cup campaign with a victory in Quebec City (CAN), and on Sunday she picked up right where she left of last season, stomping an impressive left side double cork 1260 safety and a right side rodeo 900 for a two-jump combined score of 178.00 to take her second-straight win in Modena and the ninth podium of her World Cup career.
Joining Gremaud on the podium would be a pair of skiers returning to World Cup competition after recovering from injuries suffered last season, with Gremaud's Swiss teammate Guilia Tanno and Dara Howell of Canada finishing second and third, respectively.
Tanno suffered a broken ankle back in February, but on Sunday looked no worse for the wear, stomping a switch left 900 safety and a massive left double cork 1080 safety on her final run to earn a combined score of 159.50 for her 10th career World Cup podium.
Howell's road to back to the World Cup was significantly longer than Tanno's, as the Sochi 2014 Olympic slopestyle gold medalist blew her knee in Cardrona (NZL) last September, making it 14 months since we last saw her on the international competition circuit. Stomping a super-stylish switch bio 1080 mute with her first hit of the competition and then following that up with a switch right 720 safety, Howell showed she is ready to once again take her place amongst the best in the world. Howell's third place total score was 151.50.
Last season's big air crystal globe winner Elena Gaskell (CAN) qualified for finals in second place. However, a dislocated elbow suffered in the training session that followed Thursday's women's qualifications meant that she was not able to compete, leaving just five women to battle for top spot
Hall's hot start to 2019/20 continue
Fresh off a victory at the X Games Norway in September, the USA's Alex Hall showed once again that he's taken a place amongst freeskiing's elite over the past 12 months, improving on his runner-up performance from last season's Modena Skipass big air World Cup to take the victory amongst some stiff competition on Sunday.
Dropping an insane left double corked 1620, as well as a switch left double 1440 - both featuring the seatbelt/cuban hybrid grab that has become his signature - 21-year-old Hall was rewarded with a combined score of 184.00 to take his first career big air World Cup victory and his fourth career podium.
Following up Hall in second place was last season's Modena winner Birk Ruud (NOR), as the two top athletes from the 2018 competition switched spots on the podium at this year's event.
Ruud went massive on his first air, nearly sending his right side double bio 1440 mute to the transition out of the landing, and then followed that up by going double bio 1440 mute the opposite way for a total score of 181.75.
Rounding out the podium was the inimitable Andri Ragettli (SUI), as the 21-year-old was able to stomp a left triple cork 1620 indy truckdriver on his final hit, which, combined with his switch left double bio 1620 safety from earlier in the night, gave him a score of 176.75 to edge Henrik Harlaut (SWE) and take the 17th podium of his World Cup career.
Up next for FIS Freeski is the first slopestyle World Cup of the season, coming up in just under three weeks, from November 21-23 in Stubai (AUT).
TRICK LIST
Women's trick list (click for video):
Mathilde Gremaud (SUI) - left double cork 1260 safety, right rodeo 900 safety to tail
Giulia Tanno (SUI) - left double cork 1080 safety, switch left 900 safety
Dara Howell (CAN) - switch left bio 1080 mute, switch right 720 safety
Men's trick list (click for video):
Alex Hall (USA) - left double cork 1620 seatbelt/cuban, switch left double 1440 seatbelt/cuban
Birk Ruud (NOR) - right double bio 1440 mute, left double bio 1440 mute
Andri Ragettli (SUI) - switch left double bio 1620 safety, left triple 1620 indy truck driver
Share This Article