Dragon Touch Introduces Vision 3 Pro Waterproof Action Camera With 4k Video And 16MP Photos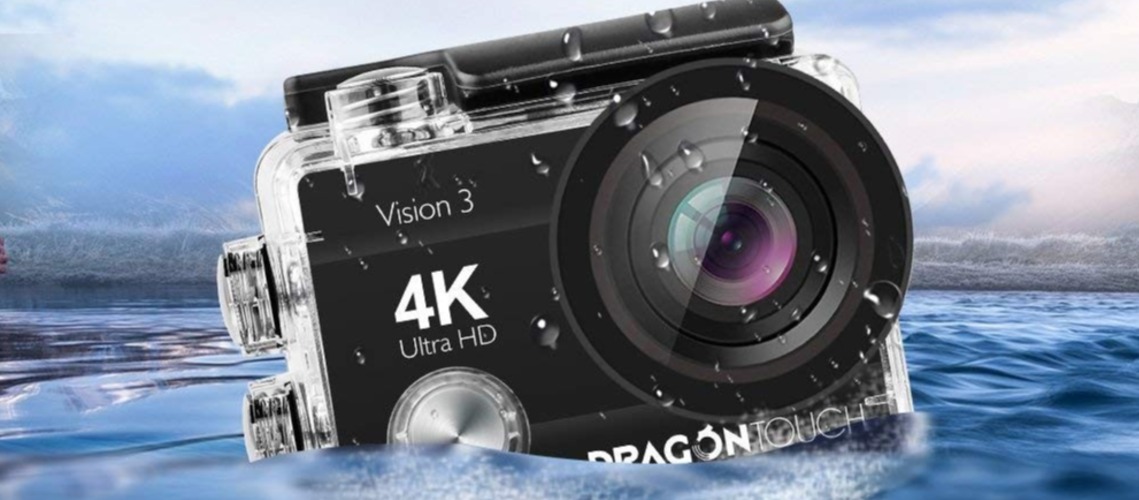 Consumer electronics experts, Dragon Touch, is today pleased to announce the availability of the Dragon Touch Vision 3 Pro waterproof action camera. Touch screen, packed with features and available to use in the car, on land and in the sea, the Vision 3 Pro is available from Amazon UK and Amazon.com.
Featuring 4K/30fps videos and ultra 16MP images, the Vision 3 Pro captures high quality footage in all scenarios and conditions. Using 170-degree adjustable angles and a high precision lens, it increases the amount of light entering to make the image both clearer and brighter. Using the smaller lenses can take in a larger field of view whereas a wide angle presents a different perspective and this can be changed according to preference. The camera can record for about 90 minutes at 1080P or 60 minutes at 4K giving plenty of time to get the desired shot or clip. The Vision 3 Pro also has 4 x zoom capabilities so clips and images can be taken close or afar dependent upon which best suits the activity or scenery.
With a 2-inch touchscreen, it is easy to view images and clips in a user-friendly way. If the camera is mounted on a helmet or selfie stick, the wireless remote-control wristband allows for the framing of shots or recording videos with the simple press of a button. Once recorded, using the app "XDV", videos can be edited and shared to social platforms instantly to show memories, experiences and funny videos to friends and family on the go. Thanks to the built-in Wi-Fi connection, videos or photos can be shared remotely with a range up to 10m. The camera can also be connected to a computer by USB cable or a TV via HDMI.
The Vision 3 Pro features a waterproof case up to 30m (98ft) so that users need never miss a moment when underwater snorkelling or taking part in water sports. The case also provides excellent protection for the camera against scratches or knocks. Additionally, the action cam features a diving mode which corrects the lighting when underwater so users can fully appreciate and capture the scenery whilst swimming.
Loop recording is another included feature where videos can be continuously recorded but the camera will only save the moments that are wanted. When the micro SD card is full, the new files will cover the old ones when switched on. The time lapse feature allows a period of time to be recorded easily and the burst photo allows multiple shots to be taken with one click to ensure there will be one to please everyone. The slow-motion feature can also allow impressive playback of any diving, skiing or other extreme sports stunts.
Driving Mode
Additionally, the Vision 3 Pro also has a driving mode which allows the camera to be used as a dash cam when in the car. Simply connect with the car cigarette lighter and the camera will turn on automatically when the car is started and turn off when stopped so there is full evidence of any incidents when driving making the device multi-functional when travelling.
The Dragon Touch Vision Pro 3 comes is packaged with mounting accessories including two rechargeable 1050mAh batteries along with a range of mounts that can be used in different situations.
The Dragon Touch Vision 3 Pro action camera is available now from Amazon UK andAmazon.com
Technical Specifications:
Waterproof Case
Remote Control
Wi-Fi Control
Loop Recording
Time Lapse
Sound Record
Exposure
Slow Motion
Driving Mode
Burst Photo
Micro USB port
Max 4x zoom
What's in the box:
1x Dragon Touch Vision 3 Camera/ 1x 2.4G Remote Control/ 2x 1050mAh Battery/ 1x Waterproof Case/ 1x Bicycle Stand/ 7x Mount/ 2x Clip/ 1x Helmet Mounts/ 1x Bandages/ 5x Tethers/ 1x Protective Backdoor/ 1x USB Cable/ Battery charger
About Dragon Touch:
Dragon Touch is a U.S.-based tablet and technology product distributor and manufactures the best-selling budget tablets on Amazon. The company designs consumer technology products based on consumers feedback and provides a quality customer service, continuing to bring the latest technology applied to new products. Dragon Touch products are sold in North America, Europe, Asia and other regions.
For more information, please visit: https://www.dragontouch.com/dragon-touch.html
Share This Article