Powdr Hires Founders Of Snow Park Technologies. Industry-Recognized Leaders, Chris & Genevieve Gunnarson, Key To Youth Development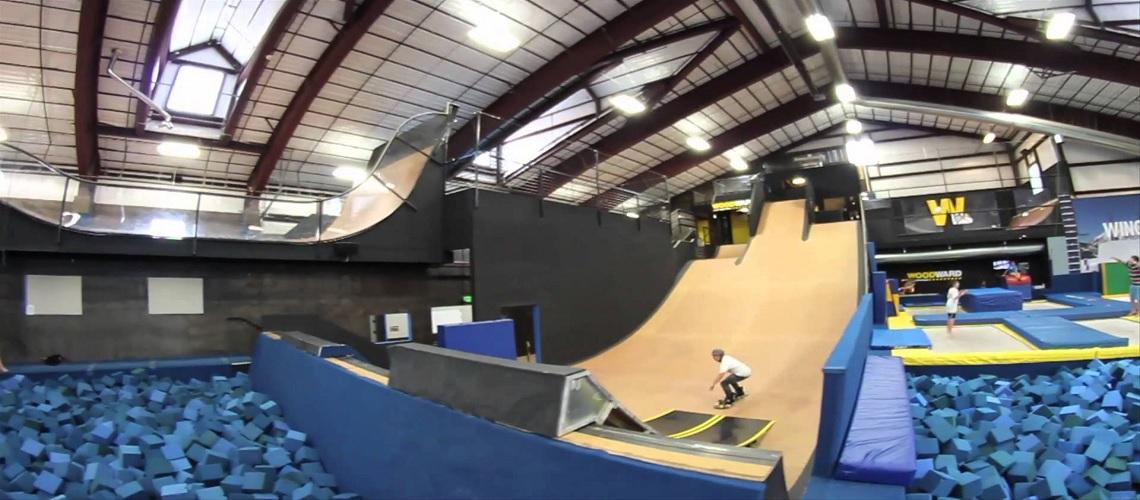 POWDR announced today that Chris and Genevieve Gunnarson will join the organization in the roles of senior vice president of youth development for POWDR, and vice president of Woodward brand and marketing, respectively. Both positions are key to the company's Woodward evolution and integration strategy.
In this new position, Chris will optimize and create new programs across the POWDR resort portfolio which will integrate Woodward inspired experiences for the next generation of outdoor enthusiasts, and action and lifestyle sports athletes. As vice president of Woodward brand and marketing, Genevieve will further elevate the Woodward brand across Woodward's camps, mountain resorts, and partners.
"We're pleased to welcome the Gunnarsons to the POWDR family," says Wade Martin, chief revenue officer for POWDR. "Chris and Genevieve's deep experience in creating and implementing high profile events, developing and executing industry changing programs, and launching impactful brand campaigns will complement POWDR's local expertise across our 13 destinations to further ensure we continue to exceed our customers' expectations, both today and into the future."
Prior to joining POWDR, Chris and Genevieve were co-owners, president and vice president respectively, of Snow Park Technologies (SPT) for more than 20 years. Widely regarded as the top consultants for special projects on snow, SPT thrived as a snow build and venue management partner for ski resorts and action sports events on and off snow. Under Chris and Genevieve's leadership, SPT designed and built more than 250 competition courses for industry events such as the X Games (summer and winter), Burton US Open, the Winter Dew Tour and Shaun White's private Olympic training sessions.
As president of SPT, Chris led the company's business vision and strategy for special projects, resorts, event development and management, and jib fabrication. Under his guidance, SPT became synonymous with the highest level of winter action sports venues and events.
Chris's snowsports career includes professional snowboarding, director of snowboarding at Bear Mountain and Snow Summit, VP of youth market development and action sports for Booth Creek Ski Holdings, and terrain park committee chairman for the National Ski Areas Association.
"I am thrilled to join POWDR because it is known for taking an authentic and local approach to business, which is the same strategy I've always followed throughout my career," says Chris. "This new role is a unique opportunity to combine my passion for outdoor sports and use my creativity and skills in events and design to advance POWDR's mission of delivering memorable experiences in amazing places."
While at SPT, Genevieve was responsible for business operations, marketing, and oversight of the company's relationships with the 14 ski areas across the country that comprised the SPT Mountain Division and was instrumental in leading multiple resorts to the top of the TransWorld SNOWboarding and SKI magazine annual Resort Poll rankings specific to terrain parks. She also oversaw SPT's marketing, finance and human resources operations.
The former marketing director at Northstar-at-Tahoe Resort and Ski Lake Tahoe board member, Genevieve started her career in the ski industry as a PSIA certified ski instructor at Bear Mountain in 1991. She quickly rose through the ranks, working in guest relations and sales before becoming communications director at Snow Summit and moving into the role of director of marketing at Bear Mountain in 2001.
Throughout her career, and as part of the SPT crew, Genevieve has been involved with a variety of events including ESPN X Games, Vans Triple Crown, Vans Cup at Tahoe, Nixon Jib Fest, TransWorld Team Challenge, Red Bull Training Grounds and Simon Dumont's Cubed Pipe. She also played an instrumental role in the planning and execution of SPT's docu-reality show, "Mountain Movers," which aired on National Geographic Channel in 2013.
"I'm excited to join the POWDR team and to promote and elevate the iconic Woodward brand which has empowered so many young athletes over the years," says Genevieve.
Genevieve has joined the Woodward team full time and Chris will be joining POWDR in May 2018.
Share This Article