Cable Car Associations From Germany, Austria & Switzerland To Meet For Transnational Conference October 19-21, 2022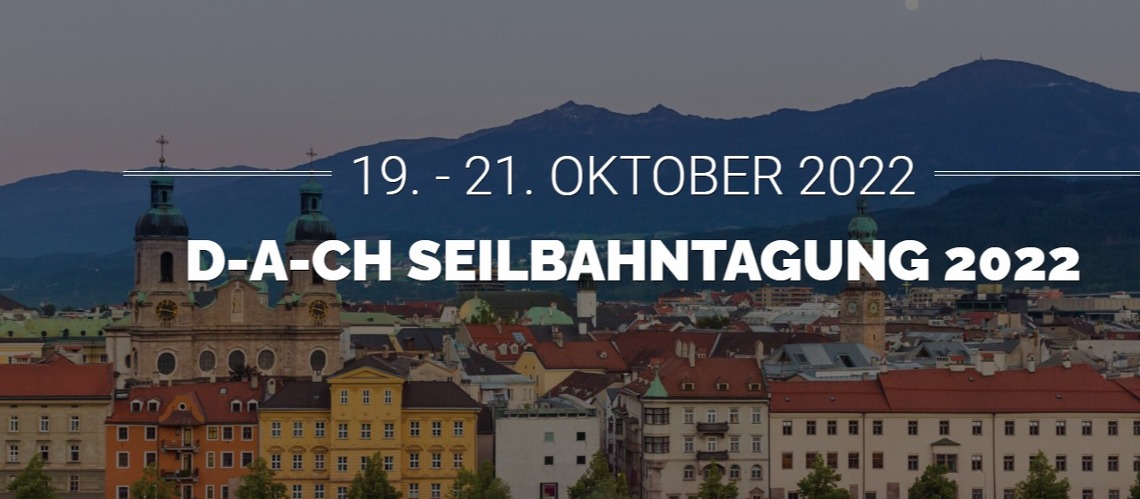 D-A-CH Cable Car Conference 2022 After six years, the time has finally come again: the cable car associations in Germany, Austria and Switzerland are meeting for a transnational conference under the motto "Cable cars - sustainable into the future".
October 19-21, 2022 Exhibition and Congress Innsbruck | Austria Sustainability and a sensible use of our resources are the core issues of our time.
The focus of this year's D-A-CH cable car conference is based on the three pillars of sustainability: people - environment - economy, i.e. the dimensions social - ecology - economy. A varied program is offered with interesting presentations and workshops.
If you register by August 19, 2022, you will benefit from the Earlybird ticket price of EUR 220 / CHF 230 per person. Registration deadline for the conference is September 19, 2022. Arrival by public transport is recommended.
As a conference location, Innsbruck is ideally accessible by train. You can also get around on site using public transport, on foot, by shared taxi or electric scooter. Together we have the goal of leading the industry sustainably into the future with modern strategies - let yourself be inspired at the conference.
Thursday 20 1 22
7.45 a.m. - 4.30 p.m., Foyer, Messe Innsbruck
Check-in, conference office

09.00 - 10.00, Forum I, 2nd floor, Messe Innsbruck
Opening of the exhibition and reception coffee

10.00 a.m. - 12.00 p.m., Exhibition Center Innsbruck
general meetings
Members' meeting of the Association of German Cable Cars and Drag Lifts e. V.: Seminar I-III, 3rd floor
General Assembly of the Austrian Cable Car Association: Hall A, EG
General Assembly Swiss Cable Cars: Forum II, 2nd floor → To the agenda items
12.00 - 14.00, Forum I, 2nd floor, Messe Innsbruck
Lunchtime snack in the exhibition
2.00 p.m. - 2.30 p.m., Forum II, 2nd floor, Messe Innsbruck
Opening of the DA-CH conference
Greeting of the Presidents
Matthias Stauch, President of the Association of German Cable Cars
Franz Hörl, Chairman of the Austrian Cable Car Association
Hans Wicki, President of Swiss Cable Cars
Alexandra Meissnitzer / Moderation
2:30-3:10 p.m., Forum II, 2nd floor, Messe Innsbruck
Solving Problems through Climate ActionPresentation in English, without translationLuke Cartin / Park City Municipal Corporation, USA
15.10 - 15.40, Forum II, 2nd floor, Messe Innsbruck
A turning point, a dent or even a possible booster?What do the multiple crises mean for demand for winter sports? Mag. Klaus Grabler / Manova GmbH
3.40 p.m. - 4.15 p.m., Forum I, 2nd floor, Messe Innsbruck
Coffee break in the exhibition
4.15 - 4.50 p.m., Forum II, 2nd floor, Messe Innsbruck
#MakeChangeFly – Communicate the climate and environmental goals of the Lufthansa Group in a gripping wayJonas Diederich / Lufthansa Group
4.50 p.m. - 5.30 p.m., Forum II, 2nd floor, Messe Innsbruck
Service excellence based on burn in instead of burn out! How do you offer employees a development and playground instead of a classic workplace.Christoph Bründl / Bründl Sport
5.30 - 6.00 p.m., Forum II, 2nd floor, Messe Innsbruck
conclusion of the conferenceAlexandra Meissnitzer / moderator
19.30 - 20.00, Foyer, Congress Innsbruck, Rennweg 3
aperitif

20.00 - 22.30, DOGANA, Congress Innsbruck, Rennweg 3
festive evening
Friday 21 10 22
09.00 - 10.00 / 10.30 - 11.30, Congress Innsbruck
Workshop 1 | Technical snowmaking and potential for energy optimization
"From water to fun in the snow" – it doesn't work without snowmaking. How can energy be saved? What is the effect of correct snow depth measurement? How to deal with the water balance? Christian Felder and Wilhelm Mareiler will answer these questions and lots of things about snowmaking for you.Ing. Dr. Christian Felder MBA / Association of Austrian Cable Cars Wilhelm Mareiler, Foreman / Bergbahn Kühtai GmbH & Co KG

09.00 - 10.00 / 10.30 - 11.30, Congress Innsbruck
Workshop 2 | energy Energy is the TOP topic - not only in the cable car industry. In view of rising costs, new food for thought is needed: both for the procurement of energy and for the development and use of synthetic fuels. Karl Dirnhofer, Zeno Kastlunger and Dirk Abend will convey proven and new approaches to this. Karl Dirnhofer / Bayerische Zugspitzbahn Bergbahn AG. Zeno Kastlunger / Skirama Kronplatz and Dolomiti Superski Dirk Abend / Shell Deutschland GmbH

09.00 - 10.00 / 10.30 - 11.30, Congress Innsbruck
Workshop 3 | Social sustainability: finding, keeping and appreciating employees. Competent, motivated teams of employees are the main pillar of a successful company. Topics such as "next generation", "work-life balance", "working time models" and "corporate culture" always resonate when looking for employees today. How do I find good employees and keep them in the company? Rüdiger Maas imparts real expertise. Rüdiger Maas / Maasberatungsgesellschaft mbH Tobias Kunz / Freiburger Verkehrs AG, Schauinslandbahn
09.00 - 10.00 / 10.30 - 11.30, Congress Innsbruck
Workshop 4 | Mobility: Opportunities and developments in leisure travel. In the past, the focus of a trip was where to go . Today, the question of how – and thus of sustainability – is becoming increasingly important. RailAway has played a key role in this area for years, as the company combines public transport and leisure. Chantal Beck, Managing Director of RailAway, discusses trends and developments in leisure travel, the modal split and the role and future projects of RailAway with you. Chantal Beck / RailAway AG
11.30 a.m. - 12.30 p.m., Congress Innsbruck
small lunchtime snack
Further information on the conference and registration can be found at https://dach-seilbahntagung.com
Share This Article