Red Bull's Anna Gasser Talks Rivalries, World Firsts And Inspiring Youngsters.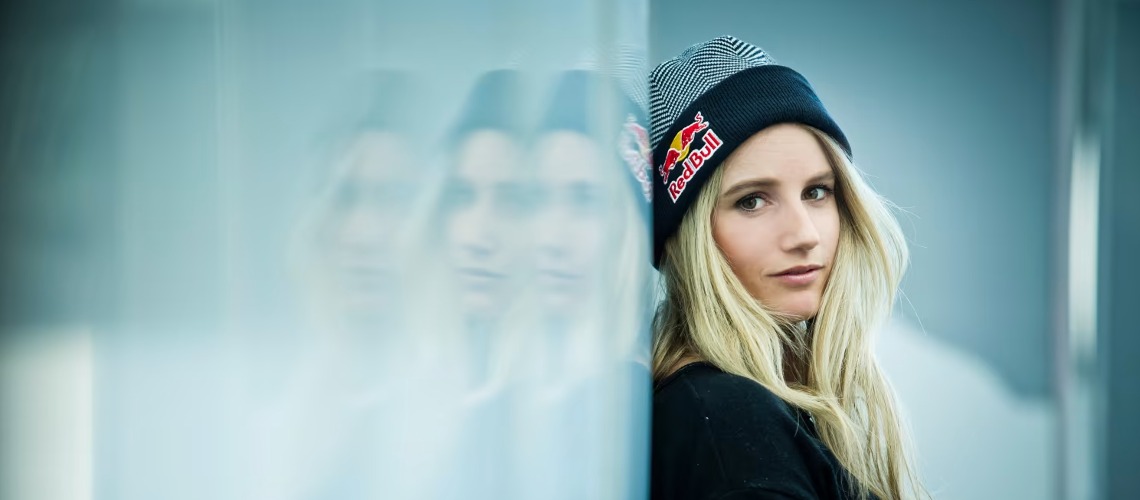 Anna Gasser has become one of the biggest winter sports stars on the planet since she broke through nearly 10 years ago and she still believes there is plenty left in the tank for more medals and world-first tricks. Here is all you need to know:

Anna Gasser: What we learned – the headlines
- Born: 16.08.1991, Villach, Austria
- She started snowboarding aged 18 and within days knew she wanted to be a pro.
- She is a 2018 Olympic and X Games Champion and has scored victories in the Burton US Open, Big Air World Cup and Snowboarding World Championships.
- She enjoys all kinds of snowboarding to keep pushing herself as an athlete.
- Anna says she is chaotic off the slopes but highly focused when it comes to sport.
- Learn more about Anna HERE.
She credits her mother with knowing her best and receives a new good luck bracelet before each competition and trip. She cannot compete without it.
"She knows if I am injured before I even tell her, she just has to hear the sound of my voice when I call her. Every trip I get a new little good luck bracelet. I also wear a protection angel necklace from her. I am superstitious about them now as I got hurt once when I didn't wear them, so now I actually want them. I need my lucky charms!"

Gasser's closest rival is US rider Jamie Anderson. The duo have pushed women's snowboarding to new levels but have found a way to become friends.
"We push each other. It's good. I am thankful for Jamie, she has made me a better snowboarder. Growing up, she was the best and the level I wanted to get to. When I was younger and we were in the same competition if I won and finished above her that is when it counted for me. We made each other's lives harder in competition, but we also made each other better, I really respect her."

Her journey to the start line is unique among her peers, having only really started aged 18 (most rivals were already competing at the Olympics at that age) when she decided to move to Mammoth in California.
"My beginnings were not easy. When I was in Mammoth I lived either in employee housing or slept in my car. But to do what you love, you do whatever it takes. I cooked spaghetti with tomato sauce four times a week in the slow cooker. Hard times but as long as I was snowboarding, I didn't care. I didn't even go to the US to become a pro snowboarder, I just wanted to progress. My parents took a lot of convincing, that was the hardest part. We had planned I would go to university, study and get a job."

Gasser has revolutionised women's snowboarding, becoming the first woman to perform a Cab Double Cork 900 and a Cab Triple Underflip.
"I thought to myself I could do a triple... then the butterflies started, and I knew: it is time to try. I managed it on the first attempt and was so relieved and felt so much adrenaline. I had no time to think about the consequences of it all!"
She is as popular with other athletes as she is with the public, and has helped win women snowboarders new respect.
"The snowboarding community is really cool. I'm very grateful that I can consider a lot of my competitors as friends… we feel like a big family. Women used to be the poor relations of the men. It was men you saw on television. Women were shut out of certain competitions and the women's prize money was less than half that of the men. Because our level has increased so much, we've gained our own platform... so many new things are taking place."

She brings a fearless approach to her snowboarding, thanks in part to her gymnastics training as a child.
"I don't think about what can go wrong. I think about how cool it is what I am doing instead… this has taken me to where I am now – just getting on with things and not thinking too much."

Gasser hopes to inspire a new generation with her accomplishments and attitude.
"I hope I can be a role model in several ways… following your own path, believing in yourself… and knowing that it is never too late to do something new."

Get to know Anna Gasser in her recent film, The Spark Within
Share This Article