Vins Alaleria - Alto Adige Offers Open - Air Tastings Of Finest Wines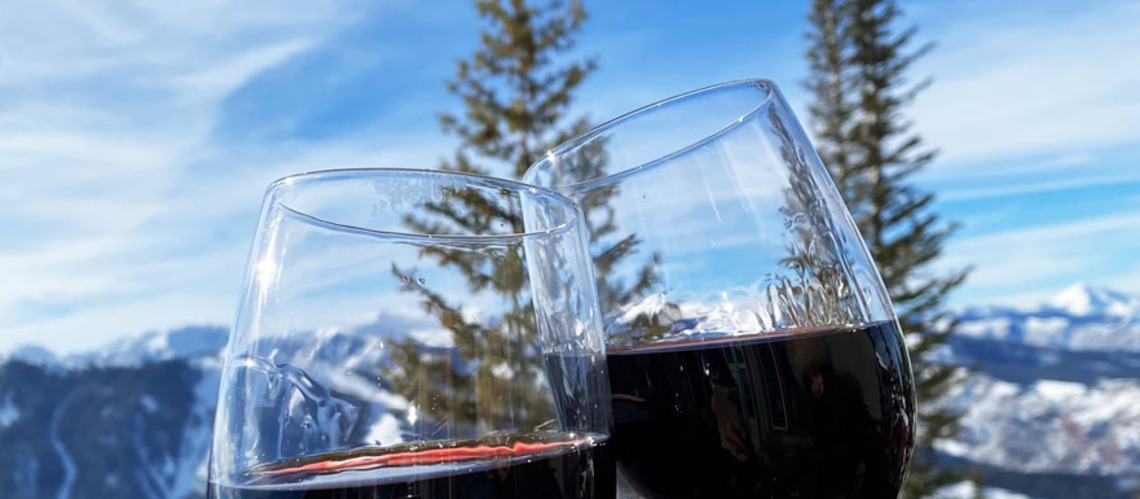 The best wines in South Tyrol and the beautiful landscapes of Alta Badia are a winning combination. There's no better place in this area at the heart of the Dolomites UNESCO World Heritage Site to discover the vast array of wines South Tyrol has to offer. The "Vins alaleria" (the Ladin term for "open-air wines") give participants the possibility to enjoy an unforgettable experience sampling wines from South Tyrol presented by a sommelier, in various open-air locations and in a reduced group-size to allow for Covid restrictions.

The nine events are divided by theme, from white wines to red wines or sweet wines, or complemented by a selection of the finest cheeses. As well as events dedicated to Alto Adige wines, there will also be two evenings focusing on gin and spirits from the region. Each event will take place in a particular location which will be carefully chosen based on the type of wine being presented.
The first event will take place on Friday 16th July and will be titled "A region in a glass" to reflect the fact that a sparkling wine, a red wine, a white wine and a dessert wine will be served on the slopes of the iconic Santa Croce.
On the 23rd July the event will take place at the bottom of the Pisciadú waterfalls, a few hundred metres from the village of Colfosco, where guests will be able to sample the finest red wines from the region, from native grapes to Bordeaux varieties. The evening of the 30th July will be dedicated to local spirits, which will be tasted while guests gather around a bonfire at the Maso Ciablun agriturismo. Few people are aware that South Tyrol produces excellent gins, distilled with herbs and local ingredients. The event devoted to South Tyrolean gins will be held on the 13th August in the garden of the castle Ciastel Colz, a historic stately home which will be opening especially for the occasion. Wines from South Tyrol are also well-known for complementing local dishes and products, and on the 20th August wines from the region will be served along with a selection of cheeses chosen by local cheese refiner Hansi Baumgartner inside a traditional barn at the Maso Sompunt. The main reason that organic winegrowing stands out is because it focuses on a growing method that respects nature.
The best biodynamic wines in South Tyrol will be discussed and sampled on the 27th August on the lawns of the Sas Dlacia, at the bottom of the Fanes-Senes-Braies Natural Park. The afternoon of the 3rd September, however, will be dedicated to white wines from South Tyrol, which participants will be able to taste on the Armentara meadows, following a short, guided visit. Lake Lech dla Lé, with its view on the Santa Croce is the ideal place for discovering our sweet and rosé wines on 10th September, while the last event will be focused on sparkling wines from South Tyrol which will be sampled on 17th September in Larcenëi meadows in La Val at sunset, from where guests will be able to admire the Cima Nove and Cima Dieci peaks of the Santa Croce mountain range.

Each event costs €24 (€30 for the evening when South Tyrol cheeses are served), including the tasting of four wines or spirits from South Tyrol. Bookings can be made at the tourist information offices in Alta Badia or online at www.altabadia.org<http://www.altabadia.org>.

SOUTH TYROL, A LAND RICH IN WINES

Alto Adige is a land of wines bursting with character and varying features. With its 5,500 hectares of winegrowing area, Alto Adige is one of the smallest winegrowing regions in Italy, but it is also one of the most diverse thanks to its geographical position. The area used for winegrowing actually extends from the base of the highest Alpine peaks in the north to a more Mediterranean landscape in the south. Having such a varied landscape means that a diverse group of grapes find optimal growing conditions. Winegrowers cultivate vines across an area of differing climates and soil types, and at altitudes ranging from 200 to 1000 metres above sea level. The result of these geographical extremities is a surprising number of excellent wines.
Whether in the vineyards or in the wine cellars, Alto Adige's 5000 winegrowers have a wealth of experience, passed down through the generations, which is then combined with an ever-growing awareness of natural and sustainable winegrowing, and with a constant desire to move with the times. The large fluctuations in temperature between day and night, an average daytime temperature of 18 degrees during the growing season, more than 300 days of sunshine a year and a temperate continental climate are the perfect ingredients for harvesting high-quality grapes which are bursting with flavour and personality. In the last few years winegrowers in Alto Adige have been focused on sustainable winegrowing, fully aware that respecting nature and its cycle is the only way to ensure that the current winegrowing industry and the natural resources it depends upon can be passed on to future generations.

OTHER CULINARY EVENTS NOT TO BE MISSED
There are many food and wine events on offer in Alta Badia in the summer, catering for all tastes. For example there's nothing better than starting your day with "Gosté sön munt", a breakfast of locally sourced produce served high up in the mountains. The event "Vives Enrosadira!" invites guests to have an aperitif while admiring the enrosadira, a natural phenomenon which bathes the Dolomites in red light at sunset. On Thursday 22nd July and 19th August see the "Giovedì di Corvara", an aperitif alongside Ladin art, while "Nos dales bales" allows guests to taste local chefs' interpretation of typical dumplings. Culinary delights will be on offer at "Sonns y saus de Armentara" and "Plajëis y duciaries", tours which will allow guests to discover traditional cooking. Anyone looking to cook local Ladin dishes can either sign up to "Cujiné te ütia", a cooking course which will take place in lodges at 2000m, or otherwise join one of the traditional Ladin cooking courses.
The garden of Ciastel Colz Castle will be the location for a special tasting event where guests try artisanal beers from South Tyrol, while any lovers of mountain walking can stop at a lodge and order a "Mountain picnic", then sit on the lawns next to the lodge to sample the products. When it comes to an open-air lunchbreak there's nothing better than the original "Takeaway dla munt" (new for 2021). To finish off our long list of food and wine events, this September also see the return of "Saus dl altonn", culinary events with the best products and local producers, as well as selected Michelin-starred chefs.
Share This Article