Solden Is Ready, Here Comes The World Cup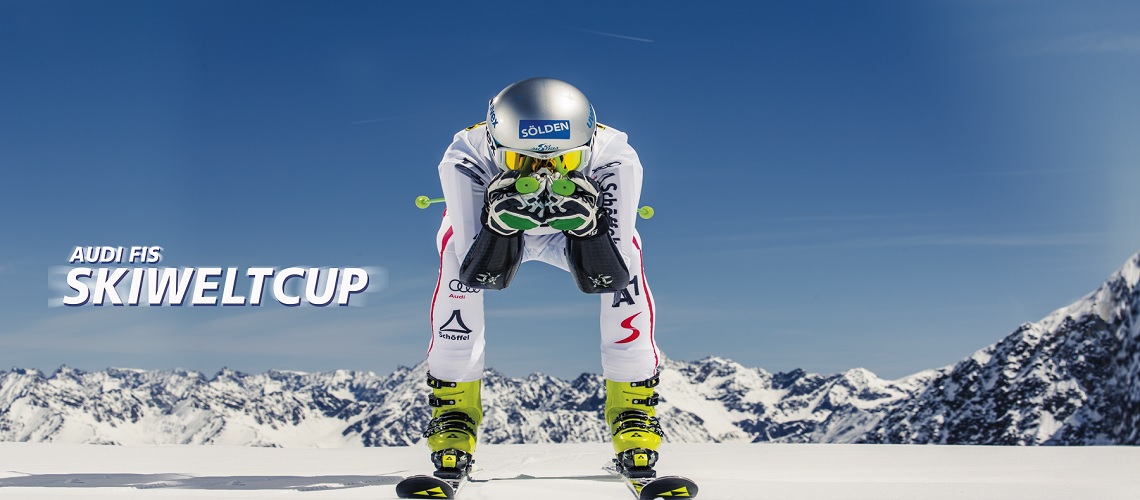 The much anticipated return to competition will kick off this weekend on the Rettenbach glacier in Soelden, Austria. A familiar face—two-time Olympic champion Mikaela Shiffrin— will be missing this weekend due to the fact that she tweaked her back in training last week.
In what is always considered a bit of an outlier race of the season because no one knows what to expect after the long offseason, the FIS Ski World Cup will kick off on Saturday, Oct. 17 with the women's giant slalom, while the men will step into the start gate on Sunday, Oct. 18. The 2019-20 season came to an abrupt end when COVID-19 struck last March, and though the North American races have been cancelled, athletes and staff are full of gratitude for the opportunity to have a season at all.
Robinson and Pinturault defending champions
Last season started off with a bang, as Alice Robinson (NZL) took her first ever World Cup victory under blue skies. The young Kiwi born in 2001 edged Mikaela Shiffrin (USA) and Tessa Worley (FRA) in a very tight finish! Alexis Pinturault (FRA) put on a great show and dominated the first men's giant slalom of the season. The French athlete finished over half a second in front of teammate Mathieu Faivre and Slovenian Zan Kranjec.
Many big names, no clear favourites
It will be a very exciting start, with many athletes fighting for the victory. In the women's race, with Shiffrin missing the season opening due to a back injury, the battle will be between 2019/20 Giant Slalom World Cup winner Federica Brignone (ITA), Petra Vlhova (SVK) and Alice Robinson (NZL). Despite the injury that kept her away from competitions for part of last season, Tessa Worley (FRA) could also fight for her second victory in Sölden and certainly Marta Bassino (ITA) is also among the ones to watch!
In the men's race, one of the favourites is Alexis Pinturault (FRA) who won the last two races on the Rettenbach glacier. Norwegian Kristoffersen, after winning the Giant Slalom globe last season, will be battling hard as well. Finally, Zan Kranjec (SLO) and Filip Zubcic (CRO) will also want to steal the show and keep building on the momentum from last season.
The U.S. Alpine Ski Team skied less this summer than past years due to travel restrictions imposed as a result of COVI-19, which meant athletes tried to squeeze in as much training domestically as possible, between official training sites Copper Mountain, Colo. and Timberline Lodge and Ski Area in Mt. Hood, Ore., as well as Mt. Bachelor in Bend, Ore.
Not only is the "White Circus" dealing with unknowns associated with COVID-19, but the World Cup season also was pushed to one week earlier than originally scheduled. We caught up with Tommy, who had his career-best season in 2019-20, finishing the season with two podiums, including his .80 second win on home turf at Birds of Prey, and ranked fifth in the world in giant slalom. Last year, he finished fourth in the Soelden World Cup opener.
"The offseason was an odd one," he reflected. "It allowed for a slower progression of strength training which was nice until I hurt my shoulder. We had an awesome camp at Mt. Bachelor in June and then I separated my AC joint while mountain biking. While recovering from that my Dad, Uncle and I started building a shed. Spending more time at home than I have in recent history was nice, but strange. Like with a race approaching, staying anchored and present was tough throughout the lockdown, the social unrest and the wildfires. I think everyone got a taste of what added tension does to our psyche. Love one another. For now, it's nice to be on snow and able to feel that free flowing feeling. Looks like a race could even happen this weekend."
Now veteran of the Team, Ted has had his fair share of success at the venue, including four victories, seven podiums, nine top-five finishes, and 11 top-10 finishes. Last year, Ted finished in fifth place, behind teammate Tommy Ford (who finished fourth), and ahead of Ryan Cochran Siegle's 11th place finish—a career best giant slalom finish for him. The young guns, Bridger Gile, George Steffey, and River Radamus, will round out the start list for the men. This will be 2020 NorAm overall, giant slalom and alpine combined winner Bridger's (who just had a birthday on Oct. 15) first World Cup start, and George's first World Cup start at Soelden.
Typically known as a slalom specialist, 2017 NCAA Slalom Champion (University of Vermont Cats), Paula Moltzan, will be starting in just her second World Cup giant slalom start, but don't let that number fool you. Keep an eye on Paula, as she's been skiing fast in training and she's very likely to be the dark horse from the back of the pack. "This is going to be my first time racing Soelden, and I'm a little nervous and a little excited to see what all the hype is about," said Paula on Thursday after training at Schnalstal, Italy. "I've heard some horror stories and glory stories, so I'm excited to see how it pans out for me."
Nina O'Brien, who finished in the top-30 in four out of six giant slalom starts last season, will lead the women's tech team. She had her career-best World Cup giant slalom finish at Soelden last year, landing in 21st place. Keep an eye out for up-and-comers, two-time national champion AJ Hurt and 2020 NorAm overall winner + World Juniors bronze medalist Keely Cashman, this weekend as well.
Canada's Valérie Grenier (Mont-Tremblant, QC.), makes her return to the World Cup tour almost two years after fracturing her right tibia/fibula and right ankle during downhill training at the 2019 Audi FIS Alpine World Championships in Åre, Sweden. Valérie had a career-best 11th place finish in the giant slalom on this very course in 2018. Valérie will be joined by Marie-Michèle Gagnon (Lac-Etchemin, QC) and Candace Crawford (Toronto, ON).
On Sunday it's the men's turn to charge down the Rettenbach Glacier. Erik Read (Canmore, AB) who had a career-best 7th place finish in the giant slalom here one year ago, hopes to build on that success. After an extended off-season Read and teammate Trevor Philp (Calgary, AB) are both excited to get the season started, and focus on performing.
The Fischer Race Family athletes have already been out on the snow for months. Although coronavirus put paid to training in popular destinations like New Zealand and Chile, the athletes still found ideal conditions for training, chiefly in Saas-Fee and Zermatt in Switzerland, but also on Austrian glaciers, to make sure they are fully prepared for the first races.
And the coming season is not just any old season. For one thing, it's a World Championship season: from 7 February 2021 athletes will be pushing themselves to the limit in Cortina d'Ampezzo, Italy, to triumph in the battle for medals. For another, many aspects of the 20I21 race season will be organised differently. Changes of venue and race procedure, stringent security, new rules for spectators – the FIS has assembled a package of strict COVID-19 measures and has also rearranged the race calendar. This year, races will be held in Central Europe only and every effort will be made to make them as efficient and safe as possible. There will be no spectators in Sölden, something which is likely to be seen at many other races as well. The measures to be taken will be decided for each race individually and will greatly depend on the situation in the area at the time. This means that they will be imposed at short notice.
Even if many things are different this year, the Fischer Race Family is raring to go. Above all, we are delighted to welcome promising new members for the coming season. The Swiss skier Luca Aerni, Englishman Dave Ryding and Marina Wallner from Germany will be racing on Fischer skis in future.
Apart from the new signings, contract extensions, for example with the two Austrians Max Franz and Stefan Brennsteiner, the German Marlene Schmotz and the Italians Manfred Mölgg and Giuliano Razzoli – the latter was already using Fischer for the last races of the previous season – have made the mood in the Fischer racing stable a very positive one.
Nicole Schmidhofer and Daniel Yule are once again sure to be among the absolute favourites for next season. The Austrian speed specialist and the Swiss technical wizard can hardly wait to pull out all the stops in 20I21 too. Great things are also expected again of last season's podium finishers Kathi Truppe, Alexander Khoroshilov and Urs Kryenbühl.
Fischer Racing Director Siegi Voglreiter is also looking forward to an exciting new season: "Although faced with many new circumstances, our top athletes are highly motivated and ready to produce outstanding performances again this winter. I wish the athletes and the whole service team a successful winter and above all that they all stay healthy."
The favourites should better watch out though, a surprise is always around the corner!

Predict the winner now
FIS recently launched the FIS Predictor Challenge for fans to compete against each other and guess the winner before each race. Head to predictorchallenge.fis-ski.com to sign up for free and start playing now. Create your own league with family and friends to battle it out and see who comes out on top. You can win great prizes, including Longines Timepieces!
Share This Article