Ski With An Eagle In Morzine In The French Alps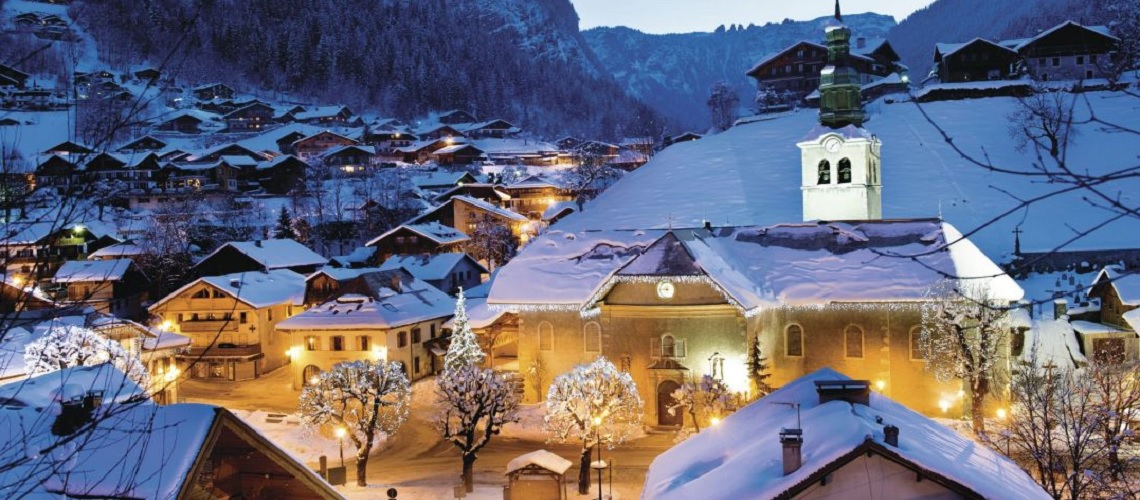 This winter, those visiting the beautiful ski resort of Morzine in the French Alps have the rare opportunity to ski with an eagle. The transformative activity, which is available until 29 March 2020, takes place at an altitude of more than 1,500m at Les Aigles du Léman Winter Park, in the heart of the huge Portes du Soleil ski area. The new concept, which is the only one of its kind in the world, gives holidaymakers a chance to see the majestic animals in their natural habitat from a unique perspective.
The experience takes place a short distance away from Morzine's town centre and begins with a welcome drink and an introduction to falconry in the mountains. This is followed by the chance to get up close and personal with Harris Hawks, before taking to the slopes to descend the mountain with an eagle. Throughout the daily morning sessions, which can be booked by groups of up to four people, ski and wildlife experts are on hand to ensure that the highest levels of animal welfare are maintained and that participants have a truly breath-taking encounter. These two-hour falconry courses with trained experts can also be enjoyed on snowshoes.
The team behind the activity has a wealth of knowledge concerning birds of prey and have designed the experience in a manner to both excite and inspire. In operation only since 21 December 2020, the experience is already proving hugely popular with thrill seekers and animal lovers alike. Located in the Nyon ski sector, the two-hour sessions costs €120 per person with the site easily accessible from Morzine by gondola.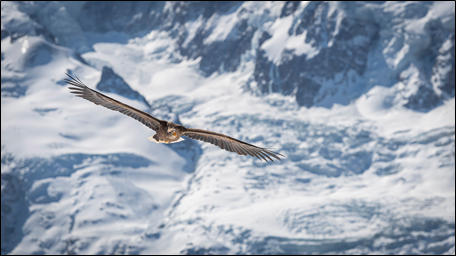 The park also offers several other wildlife-based activities, suitable for those with little or no ski experience. Throughout the day visitors are treated to eagle, hawk and owl shows both inside and outside. Over lunchtime, there are special events that combine traditional story telling with unique bird displays, a number of which incorporate Alpine folklore. All these are free for participants, the only charge is for food and drink available in the restaurant.
The site also offers a number of activities for children, including an impressive and secure luge track, an excellent indoor and outdoor play area, and an educational path with signs inviting kids to learn more about Alpine birds of prey. The park also benefits from a souvenir shop and a superb restaurant, serving a range of delicious regional dishes. Here, visitors popping in for a drink or snack can expect free immersive shows, with majestic birds literally swooping in and out of the building and above diners' heads as they eat.
For more information about Les Aigles du Léman and to book an experience, please visit:
http://lesaiglesduleman.com
More news from Morzine

Piste news: Morzine is situated in the centre of the vast Portes du Soleil, with more than 600kms of skiing under one convenient lift pass. Morzine itself boasts 71 pistes comprising nine blacks, 28 reds, 31 blues and three greens, and this winter sees two new ones. The first is classified as blue and begins at the top of the Belvedere lift on the Pleney Plateau. Skiers have the option to continue onto the Pleney slopes or bear right and head towards the Nyon slopes. The second is a red piste that runs down the face of the Nyon from the summit down to the plateau. It is a re-route of the Aigle Rouge piste and is 2kms long with a drop of about 700m in altitude.
Eco news: Montagne Verte is a Morzine based not for profit, working to reduce the environmental impact caused by residents, visitors and businesses in the resort. Their goal is to encourage everyone to get involved, by providing all the information needed to help people be greener and to make environmentally friendly options more accessible. This includes collaborating with local businesses in a drive to use environmentally friendly suppliers and engaging with the community through regular events and workshops.
Activity news: New for this winter, holidaymakers in Morzine can take part in a night-time snowshoe and aperitif experience. Exploring the beautiful forests with an expert by flaming torchlight, guests stop for a mulled wine break while surrounded by nothing but trees and snowflakes. The evening activity costs just €20 per person with snowshoes, poles and lights provided. There is also the additional option to enjoy a fabulous fondue diner in a nearby refuge. For more information on this and other unique Morzine experiences visit www.alpirandovtt.com .
Share This Article