Alpine Media Technology Helps Winter Park Resort Take Its Guest Messaging Capabilities To New Heights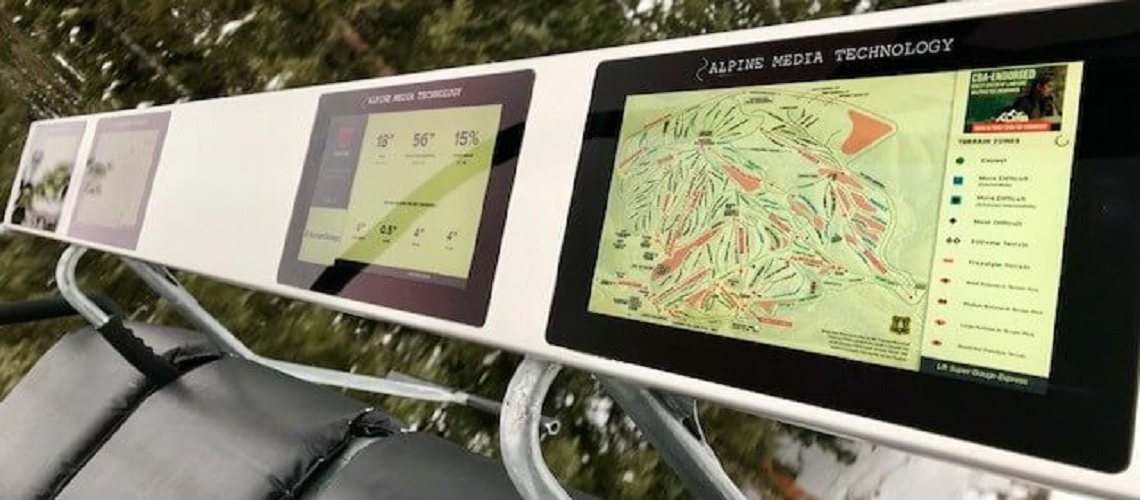 With the 2020 ski season underway, Alpine Media Technology and Winter Park Resort continue to work together to evolve the resort's on-mountain communication and guest messaging. Alpine Media's All Mountain Platform consists of more than 700 digital screens at Winter Park Resort, including more than 600 screens attached to the comfort bar of the Super Gauge Express, a six-seater chair on the local favorite Mary Jane mountain side.
Alpine Media Technology offers ski resorts and ski towns a digital guest communication system known as the All Mountain Platform (AMP). AMP features an eight-minute, real-time, digital information loop with the aim to help skiers and riders maximize their time while on the mountain. From grooming reports, digital trail maps, resort events, etc, the AMP info loop can display on any screen type or to any screen location desired by resort operators. In addition to Lift Digital, the chairlift and gondola product, Winter Park operators have strategically placed screens across all the major lodges, both indoor and outdoor, hotel front desks, and even a highly visible 85" screen at the base of the gondola.
AMP not only offers helpful resort information, but a new alert messaging feature for this season. Ski patrol, lift ops, and other department heads can now push out alerts as they deem necessary. From AMP's central command center, a text message can be loaded up and broadcasted out to all screens notifying guests of important information like lift or trail closures and changing weather conditions.
"Winter Park has been a great development partner and we've enjoyed the collaboration process across all departments," said CEO Freddie Peyerl. Peyerl, who has skied at Winter Park since moving to Colorado nearly 15 years ago and actively serving NSCD as both a volunteer ski instructor and board member, has spearheaded the development process for AMT over the past three years. "Our mission is to become the "Go-To" resource for ski resort operators to enhance their communication capabilities while ensuring we improve the guest experience," said Peyerl.
"Whatever the need, we believe we now have the technical foundation to add information and features to meet the needs for all current and future partners", said Peyerl. "It's been great to see our partners increase their screen coverage from year to year and embrace all of these new features."
The demand for AMT's platform continues to grow as they have received interest from various ski town lodging groups and transit companies. They have recently completed installs at Telluride and Mountain High, a popular favorite for SoCal locals. Crystal Mountain is testing out the Lift Digital technology on their gondola this season, which at arrival to the summit, offers a stunning, scenic view of Mount Rainier.
With destination skiers and riders on the increase, due to the Ikon and Epic Passes, first-time visits are ever increasing. "As a new skier to Colorado myself, it's been nice having an on mountain guide so to speak," said AMT's Director of Marketing, Garin Gustafson. "With over 75% of the skier day spent in lodges, lift lines, and on the lifts themselves, AMP has the ability to keep guests informed, navigate the mountain, and better familiarize themselves with the resort."
So the next time you're on the mountain, take a look around. Perhaps you can digitally navigate the course to your next run and make plans for a mountaintop apres live music event while the I70 traffic clears.
Share This Article