Test Your Winter Sport Skill Without Leaving Home Through Airbnb In The Protest Sportswear "Never No" - Fun House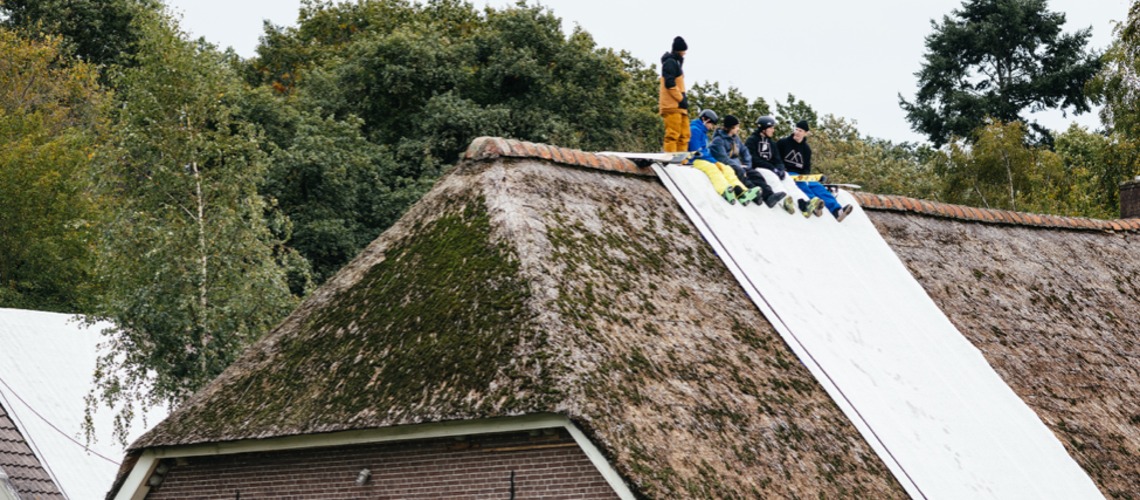 A serious lack of snow and mountains in the Netherlands and you still want to perform backflips and three-sixties? Protest proves that it is possible! Nothing stands in the way of being able to perform the ultimate winter sports tricks in almost the flattest country on earth! This season, Protest is opening the "Never No" - Fun House in the idyllic Dutch Veluwe, which is available for rent via Airbnb.
In a series of spectacular videos you will be inspired and challenged by Protest freestyle riders; Andri Ragettli, Gian Ragettli, Camille Armand, Mees van Lierop and Mees Oostdijk, to push your limits in boarding and skiing. Taking it to the next level by performing a Roof Slide off of your own roof? Not challenging enough? Dare yourself to do a Seesaw Grind in the garden, or make the ultimate Car Jump in front of your own front door!
With the latest campaign "Never No", Protest shows that no matter where you are or what conditions, with some creativity and a lot of guts, you can always come up with a way of boarding or skiing. To prove this point, Protest has converted an old farm into the ultimate Fun House experience. In a series of 5 videos, with 5 different courses, the group of legendary freestyle skiers and snowboarders challenge themselves to take on this seemingly impossible course.
The "Never No" - Fun House is now available to rent on Airbnb, click here. During your stay a team of experienced professionals will be present to assist with the stunts. In addition, all your freestyle tricks & stunts will be recorded by a video crew on site.
"Protest has one goal in mind, reminding everyone that boarding and skiing is all about FUN! To hell with logic, to hell with obstacles. Let's do what we love. And what could be better than to convey that message in your own country in such an extreme way? We have challenged our freestyle riders this season in an incredible way, with spectacular videos as a result". – Manon Peters, marketing manager Protest Sportswear.
After three successful seasons of the "Prepare to get there" campaign, this season you will be challenged by the "Never No" campaign. A next level campaign where freestyle riders show that nothing is impossible. Even without the right conditions, you can get out there. The result is a series of spectacular videos with major stunts in and around a custom converted "Never No" - Fun House.
Protest will release 5 videos and more content spread over the upcoming four months! Keep an eye on the social channels, or for more information about Protest Sportswear: www.protest.eu
Share This Article