Squaw - Alpine Freedom Fest Returns July 3-7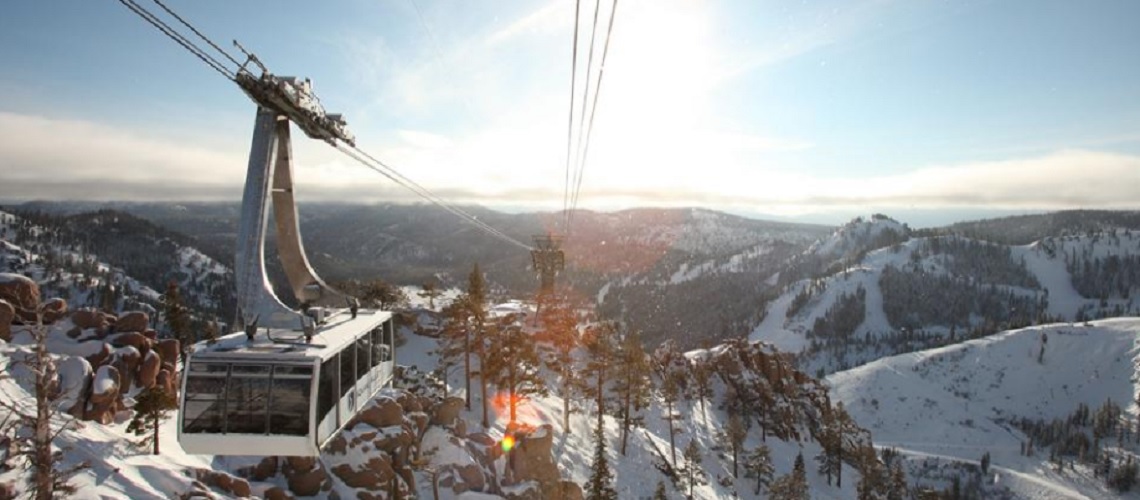 Coming off a record-breaking season—with a total of 682 inches of snowfall so far—Squaw Valley Alpine Meadows is bringing a taste of winter to the Fourth of July. Squaw Valley Alpine Meadows received more snow than any other resort in the country this season, and guests will be skiing and riding well into the summer, with a projected closing date of July 7 at Squaw Valley and the return of Freedom Fest on July 4-6.
]Freedom Fest brings together the best of summer and winter: skiing and riding during the heart of the summer, daily live music performances, pool & hot tub parties and spectacular fireworks. There is nothing quite like donning your most patriotic garb and taking some turns at 8,200' feet on a day usually reserved for backyard barbecues and beaches. World-renowned Paul Oakenfold will bring his legendary musical performance to the KT Deck for a family event on Friday, July 5, accompanied by dazzling laser lights and culminating in a festive fireworks display. For over three decades, Oakenfold has elevated and shaped an entire genre and remains one of the leading forces in the global music scene today. Bring the whole family out for this all-ages event—grab lawn chairs and blankets to spread out on the grass, take in the music and watch fireworks streak across the night sky.
Skiing and Riding
• July 3-7, 8 a.m. to 2 p.m. daily Aerial Tram, Funitel, Big Blue, Gold Coast and Shirley Lake chair lifts.
Live Music
• Paul Oakenfold July 5, 8 p.m. to 9:45 p.m. KT Deck
• DJ performance July 5, 6:30 p.m. to 7:30 p.m. KT Deck
• Grant Farm presents the "Grantful Dead Revue" July 4-6, 12 p.m. to 1:30 p.m. daily at Gold Coast
Fireworks
• July 5, show will start after sunset
Village Block Party
• July 4-7, 2 p.m. to 5 p.m. daily. After coming off the slopes, the party continues in the Village at Squaw Valley with daily Block Parties. Each day a Village restaurant will offer specials on food or drinks, and live music on its patio.
Hot Tub Party
• July 5, 12 p.m. to 3 p.m.
High Camp Pool & Hot Tub
Yoga Squaw'd
• July 3, 5 p.m. to 6:30 p.m
This is a free, outdoor, all-abilities yoga class held in the Village at Squaw Valley, outside Wanderlust Yoga Studio.
Spring and Summer Schedule**
**All operations are subject to change due to weather and conditions
• Squaw Valley Ski & Ride Schedule
Open daily through Memorial Day (Monday, May 27)
Open every weekend (Friday-Sunday) from Friday, May 31-Sunday, July 1
Open for the Fourth of July Weekend, Wednesday, July 3-Sunday, July 7
Closing Day is Sunday, July 7

• Alpine Meadows Ski & Ride Schedule
Starting Friday, April 26, open weekends (Friday-Sunday) through May 19, via Summit and Roundhouse
Beginning Monday, April 22, Sherwood, Scott, Lakeview and Hot Wheels terrain will be closed for construction of the new Hot Wheels chairlift. No skinning or other access will –be allowed
Closing day is Sunday, May 19
• Squaw Valley Aerial Tram Schedule
The Aerial Tram and High Camp Hot Tub will be open Friday through Sunday for sightseeing only May 31-June 2 and June 7-9. The Aerial Tram will be open daily for sightseeing only beginning Friday, June 14
Share This Article