FIS Q&A With Katharina Liensberger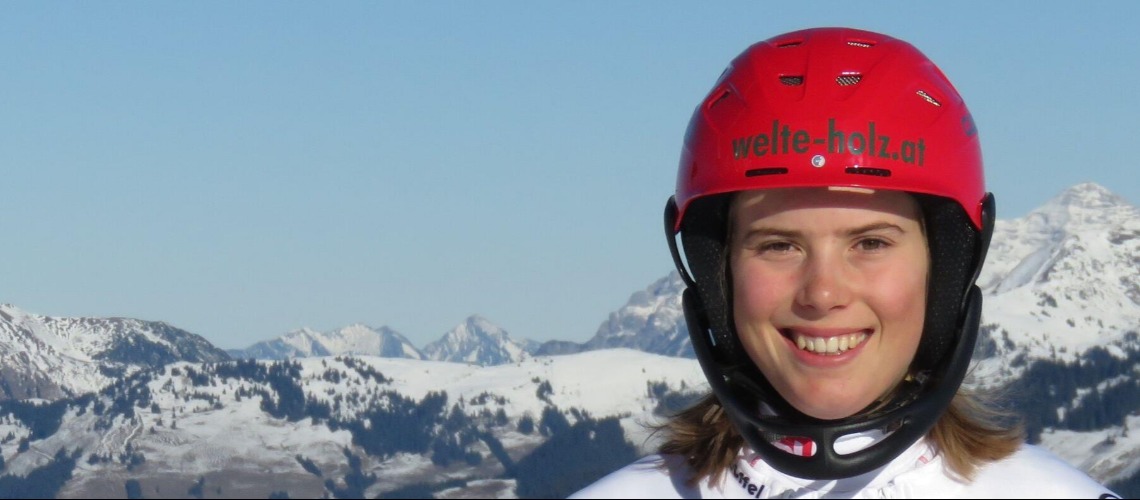 Katharina Liensberger is one of the Austrian talents in tech events, taking inspiration from the best athletes in the World to improve her skiing daily. Here you can get to know her better when she talked with FIS
Your first World Cup race was in Flachau 2016.Since then your growth has been steady in terms of results; your first top-ten arrived in 2018 inZagreb, and last season you achieved your first World Cup Podium in Flachau. How would you describe your journey?
I really enjoy my journey, which is always getting better, and it's so impressive to me to have done these steps in such a short time. I love the process of developing into a faster skier, and just to sum it up...ski racing is not only a part of my life, it gives me enthusiasm, ambition, and vitality for every upcoming day. Even though it will probably be a never ending story to reach my highest level, I would say that challenging yourself to do the best that you can is the most exciting part of the sport. If you do it right, it might not be so unbelievable to see great outcomes.
In reviewing of your career so far, you won two silver medals at the Junior World Championships of St.Moritz and Are, and, most importantly, you won two silver medals in the Team Event at Are World Championship and the Pyeongchang Olympic Games. Considering your young age, these are pretty impressive results. How do you describe these achievements?
To be honest, when I look back, especially to the last two seasons, I'm very proud, and I would say that it is the result of all the progress and steps I have taken every day to move forward and get better and faster on my skis. But whatever actions I do, there's never a predictable outcome. All I can say is that I'm proud to see that not just me - actually my whole team - does a real good job, as the results show, and I'́m so thankful for all the support I get. Of course, I've got plenty of ambition for the future, and I really look forward to everything that is to come while I'm able to live my life this way.
How did you experience your first big events like the World Championship and the Olympics?
For me, taking part in such big events was very impressive. I could learn a lot and experience many happy moments. The flair and tension is unbelievable, because of the many athletes trying to perform at their best. And even though a lot of spectators and media are around, you really have to concentrate on yourself. You are the only one who is responsible for yourself when you leave the start gate, and it's just you-- even considering the help of your team --that is responsible for the style of your skiing. Of course, it's not always easy to handle all of the pressure around, but nevertheless it's part of the game, and you have to stay focused on the important moment.
The 4th place in Are was difficult to swallow. How did you react, and who helped you the most?
Of course, it's true that I was sad about the place, and it wasn't easy to classify my performance because, while I was so close, I was also too far away to reach a medal. The prize giving ceremony in the evening helped me a lot to sort out my feelings and to be thankful to take part in it at my first World Championships. It was a contagious feeling to see the happiness on the winner's faces.
Skiing in Austria is one of the biggest sports. How do you handle the media pressure? Do you have a team that supports you?
I'm really happy that most of the people in Austria are excited about alpine skiing and, therefore, also show interest in the sport I'm doing. I really like getting cheered on by the crowd of fans watching the ski races. I believe that there is great appreciation for all of us racers. While giving interviews, I just try to be myself by giving honest responses and showing all the viewers how much I love doing my sport and how much positive energy I can spread that way. However, I'́m focusing primarily on skiing itself while fielding the media as well as possible.
"Winter athletes are made in the summer," is a common saying in ski racing. What do you focus on in the summer?
That's true, summer time is a big chapter for me as a winter athlete because it's the time when I prepare myself for the upcoming season. While I'm presently finishing my customs training and education, my work-out training for physical conditioning has already started. Usually the ski training starts overseas in August and continues with training on the nearby glaciers as soon as there is enough snow there.
How did you become a ski racer, and did you always dream of it?
I would say that I became a ski racer because I love it. I love ski racing and I love this sport actually more than any other sport in the world. All the work in process was a combination of many days of ski training in winter, physical training in summer. While focusing and concentrating on everything that could make me a better athlete, I always dreamed about being as fast as possible from the start to the finish line of the races – well, it hasn't changed until today.
Who's the most inspiring skier-- or athlete in general-- for you?
That's a difficult question. I'm afraid I can't answer it, in general. That's because every athlete has his or her own style, even if there are a lot of different details surrounding each of them. But I can isolate a bit by taking the technical part of skiing from Marcel Hirscher or Mikaela Shiffrin, as an example.
Through your social media we have seen that you play the harp. Is it a great passion?When and how did you learn to play?
Playing the harp helps me a lot to relax and free my mind. For me, it's a wonderful compensation to hear some calm tones and to concentrate myself on a completely different area than skiing. Even though over the last few yearsI have had less time to play, as I am travelling a lot, I always enjoy playing my harp again when I come back home.
Do you have other hobbies? How does your normal life look?
Skiing is actually my normal life, and I really enjoy every part of it. Of course, I also like doing other sports such as kitesurfing or playing tennis, for example. I really need variety every day and to find challenges that I can manage by putting all my love and confidence into them.
How difficult is it to balance athletic life and normal 'girl' life?
It depends very much on the attitude and priorities one has towards both aspects. Of course, there is not much time to hang out with friends. That's why it is important to manage your time wisely to find a good balance between work and leisure.
Share This Article