TechnoAlpin Snowfactory Kicks Off The Snowmaking Season!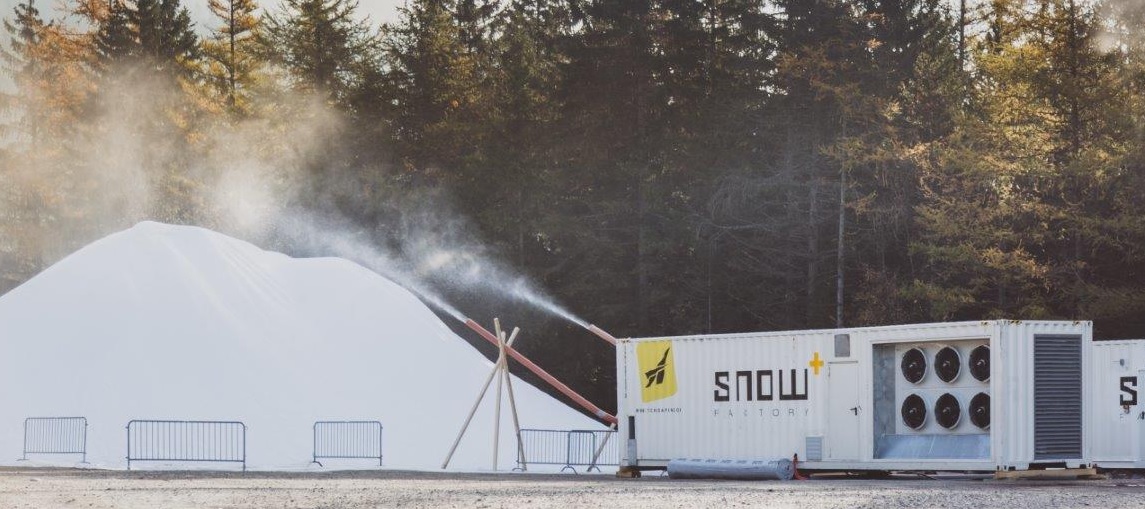 Well ahead of the real beginning of the winter season, ski resorts using Snowfactory production units have started to make snow already! Thanks to the performance and efficiency of the Snowfactory technology, some operators fired up their units as early as the end of the summer. The very first user of Snowfactory for the 2018/19 winter season is the ski center Sjusjøen in Norway: the Snowfactory was fired up in August!
Over the last week of September, the Biathlon Arena of Lenzerheide (Switzerland) started snow production with its Snowfactory units. The units there will then run for 6 weeks in order to prepare the snow for the 2 kilometer biathlon and Nordic tracks. The Biathlon Arena is set to open on November 1st.
In the next few days, several other Snowfactory users are about to start their units in order to either guarantee early season openings or make sure to have enough snow for events scheduled later on in the winter season.
This is the case at Sljeme in Croatia and Antholz in Italy. Both ski resorts will host major FIS events early in 2019, a slalom world cup in Sljeme on January 5th and 6th and a biathlon world cup in Antholz at the end of January. For this later event, a total of8000 m3 of snow will be produced with the Snowfactory.
In the Czech Republic, the ski resort of Moninec plans to open its slopes to its guests on November 17th. To achieve this objective, Moninec will run its Snowfactory units mid-October on. In France, the ski resort of Châtel will start up the Snowfactory that was purchased last season, this week.
The very early start of the Snowfactory at these different ski resorts is a good illustration of the need and relevancy to have this additional tool for snowmaking and to be able to make snow early on in the season when conditions are not favorable enough for conventional snowmaking. Early opening, snow guarantee, the Snowfactory can bring an appropriate answer to challenges faced by ski resort operators and certainly can be a game-change in their strategy.
Share This Article